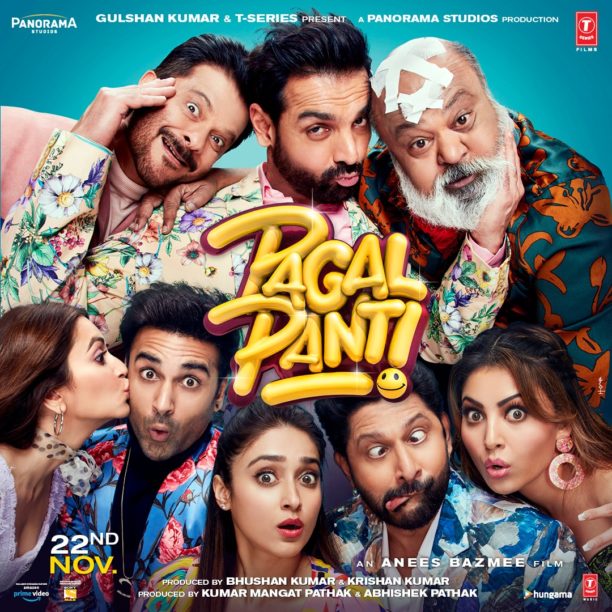 Pagalpanti
Directed by Anees Bazmi
There are two villains, brothers if you will, who call each otther Tulli Bro and Bulli Bro. Couldn't tell which one is which. And then much later there is a ghost voluptuous enough to pass off as Urvashi Rautela(because it she!). And yes before I forget, the archvillain is Nirav Modi, yes THE Nirav Modi who has run away with our country's money. Just like the writers of this film who have fled with every shred of sense and sensibility they could lay their hands on.
Okay, you can giggle now. Pagalpanti is the kind of madcap comedy that only Anees Bazmi can write. Some of the characters are really funny. Saurabh Shukla and Anil Kapoor as an uncle-nephew pair with serious financial problems, are uproariously hammy. At one point in the storytelling Anil even rolls on the floor like a woman who has kept a fast to save her children from inane comedies.
Anil Kapoor can do anything. Regrettably, John Abraham can't. He isn't suited for comedy at all. But he's sandwiched between two very fine comic actors Arshad Warsi and Pulkit Samrat who save the day. Not sure if they save this lengthy stretched-out 2 hour 40 minute bigscreen sitcom trying so hard to be funny, it ends up being funny for trying to be funny.
Does that make sense? It's okay, if it doesn't. Because nothing here makes sense. Sequence after disjointed sequence unravels like episodes from a season of a comedy show where every actor has been given only one brief. Nothing should make sense.
In one sequence Kriti Kharbanda (playing a ditsy airheaded heiress who falls in love with loser Pulkit) is seen waiting for her birthday gift as all the British guests (the film is set in London) hang around on a manicured lawn trying hard not to yawn. The gift arrives in an oversized van. It's a swanky sports car which has been battered en route because the transporters John, Arshad and Pulkit were involved in road chase that could have killed many.
Here it just kills common sense. For scene after scene I waited for some sense to emerge. It was alosing battle. Then I gave up trying to make sense and just flew with the flow of inanity, And guess what! Suddenly it all made sense! Director Anees Bazmi and his writers (Rajeev Kaul, Praful Parekh) don't really mean any of this to make any sense.
The challenge is to stay calm as the world on the screen erupts into millions of fragments of irrelevance. Okay, I accept the onslaught of imbecility as a way of laugh. But what about Ileana d'Cruz and Brajendra Kala playing niece and uncle? What were they meant to be doing in the plot? Why did Garba music play each time the filmy Nirav Modi come on screen? And why was this diamond hustler played by the very talented Iman-ul-Haq?
Answers, I didn't get. What I did get from Pagalpanti was some silly laughs. In a world filled with stress (think of what Saurabh Shukla, Iman-ul-Haq, Anil Kapoor or even Arshad Warsi must go through to look convincing in a comedy as absurd as this) Pagalpanti tells us, it's okay to serenade the silly as long as you are not hurting anyone's feelings.