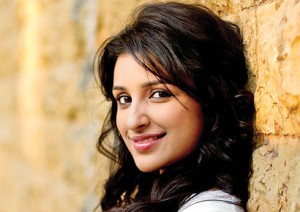 First Priyanka Chopra became an actress and rose to the top and now cousin Parineeti Chopra is becoming an actress with her second film Ishaqzaade which will release May 11th. Now Priyanka Chopra is singing and completing her album and so next we might be hearing Parineeti Chopra bring out an album as well.
The 23 year old actress has spilt the beans and told TOI reporters that she is in fact a trained singer and has been learning it for 6 years as well as completing a BA (hons) in music. Seems like little PC will most likely be following in big PC's footsteps.
The actress although has stated that she definitely doesn't want to sing now as she wants to grasp the whole acting area first. "When I…don't need to practise anymore, I will sing" says the actress.
The newcomer also has a star crush. Saif Ali Khan is the man and Parineeti wants to let Kareena Kapoor know that she competition.
None the less, let's see where this PC ends up.