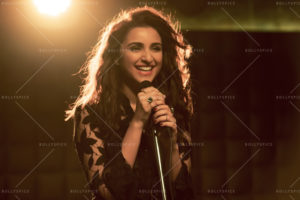 The retro tinged love story Meri Pyaari Bindu is set to hit cinemas tomorrow. The film follows the characters of writer Abhimanyu played by Ayushmann Khurrana and Bindu the madcap wanna be singer played by Parineeti Chopra. It follows their tale of love through ages 5-to-35 in all its incarnations.
Parineeti Chopra plays a character that is, as she says, very spunky. In fact, Abhi describes her perfectly in the film, 'How do you contain this unpredictable, crazy, restless, larger than life, live wire in the pages of a book?  You know when a song comes on and you just have to dance? Bindu was that song. That silly infectious joyful tune you couldn't get out of your head… even if you wanted to.'
Due to unforeseen circumstances, the actress was not able to do a phone interview but she was fabulous enough to take the time to answer some questions through email!
Check out what Parineeti had to say about playing Bindu, working with Ayushmann and everything Meri Pyaari Bindu!
What was it about this character and this film that made you want to say, "oh I have to play her"?
It was the script that won me over. I read it and found it very cool. I felt connected to the story, as it is a sweet and feel-good film.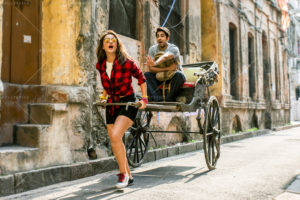 How would you describe Bindu?
My character in the film is spunky, energetic and so very irresponsible, with no planned agenda, unlike today's generation that is focused.
Tell us how you become your characters? Is there one thing you keep in mind while playing her?
The script was quite thorough and the character of Bindu was well etched out. Bindu is a young, mad, spunky person who is also very honest. In terms of preparation, I just tried to think and approach life like Bindu. The rest fell in place while we shot for the film.
'Maana Ke Hum Yaar Nahin' is your debut song, were you nervous before stepping in front of the mike? How was it recording the song?
I am very thankful to everyone that my debut song has been loved so much! Usually party tracks tend to become popular, whereas in this case; a gentle, romantic number has become a hit and that is very gratifying.
I was a little nervous of course, but more than that, I was focused on giving this song my 100 percent. I also enjoyed working with the fantastic team of Sachin-Jigar for this song and am thankful to them as well as Maneesh Sharma, the producer for the chance to do playback singing.
Of course not taking away from the amazing playback singers but how cool is it to be in a video to your own voice?
The video has also been appreciated; it's simple but visually soothing. So yes thanks to everyone again!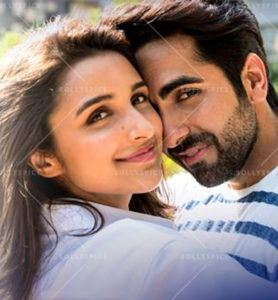 What is the song you sing at the top of your lungs when you are alone? What is your favorite song?
Right now, it really is 'Maana Ke Hum Yaar Nahin'…I love humming it everywhere!
Tell us about Ayushmann on set and in a scene.
Ayushmann is a friend; so being on set with him was like hanging out with a buddy. We worked together to deliver convincing and natural performances. On set, we would chat, work on a scene and basically jam with our director Akshay Roy to crack it. So it was great fun. I must tell you that Ayushmann has always been encouraging me to sing, right from the start.
What would you say about your journey as an actress so far?
So far, I have learnt a lot about acting, cinema and the film industry. I am lucky that fans and people have appreciated my work most of the time. Now, there is little scope to make mistakes. I am focused on delivering good and varied performances.
What is your favorite thing about this film?
My favorite thing about this film is its story. I also love the seamless impact of the mix tape in the film's narrative.
Can you tell us about your role in Golmaal Again?
Oh my God, it's a crazy set; it's like fun all the time!
I now understand why Golmaal is such a mad franchise. The people who make it are quite amazing. There are games and pranks being played on set, and there is so much love and loyalty within the team. Of course, it's a huge film but everything happens with clockwork precision. It's one of my all time favorite sets.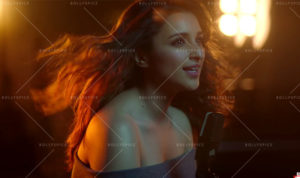 How cute was it that your Golmaal cast had that cut out of you?
Everything about this team is mad fun! Their gesture for my film was so nice and absolutely in the spirit of the Golmaal films- humorous and a little crazy!
Be sure to check out our interview with Ayushmann Khurrana as well and watch Meri Pyaari Bindu when it releases into the world on May 12th!