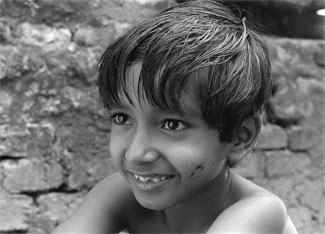 I could tell you all sorts of things about Pather Panchali ("Song of the Little Road") and the Apu Trilogy that you'll no doubt have read elsewhere: that Satyajit Ray was inspired, most particularly, by Italian neo-realist cinema such as that of Vittorio De Sica, whose Ladri di biciclette or "Bicycle Thieves" — I can understand that, it's a film that makes me weep, no matter how many times I've already seen it. That it was based on two works by Bengali writer Bibhutibhushan Bandyopadhyay, which Ray eventually adapted into the three films of the trilogy. That the trilogy forms a bildungsroman, a coming of age story, focusing on the life of Apu. That the film is visually beautiful but is also languorous and winding and requires patience on the part of the viewer.
I could tell you that Pather Panchali was critically acclaimed, that it won the National Award for Best Feature Film in 1955, and the Best Human Document award in Cannes in 1956; that Ray produced a masterpiece in his first film, though most of his cast and crew was untested – cinematographer Subatra Mitra, for example, had never worked a film camera.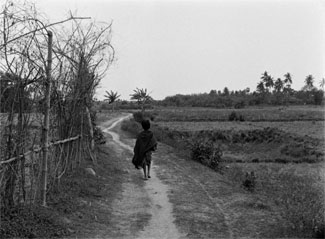 I could tell you many things, but none of them could prepare you for the beauty of this newly restored version of Pather Panchali and the whole Apu Trilogy, a restoration that took seven years, that took Ray's negatives, burned in a fire two decades ago, and turned them into a beautifully and meticulously reconstructed 4K version. I could tell you, as the press materials did, that "The Apu Trilogy brought India into the golden age of international art-house film, following one indelible character, a free-spirited child in rural Bengal who matures into an adolescent urban student and finally a sensitive man of the world."
And even if I told you all these things, even if I emphasized how important they are, especially the restoration, all of them pale in comparison to what is truly important here – the story of Apu and his family: Apu's father, Harirar Roy (Kanu Banerjee), an educated man who longs to earn his living as writer, who instead earns a meager living collecting rents and through his role as a pujari (priest), and who eventually leaves his family alone for a stretch of many months while he goes to find work in order to provide for them, and to restore his ancestral home, falling into ruins. Apu's mother, Sarbajaya (Karuna Banerjee), constantly working to keep her family from falling completely into ruin like that ancestral home, a task that proves too much for her in the end. Apu's elderly auntie (a cousin of his father), Indir Thakrun (Chunibala Devi), who sings the children to sleep, and who is at the mercy of Sarbajay's taunts until she finally leaves to stay with another relative. Apu's sister, Durga, with whom he shares many of the joys of life on this worn and dusty footpath: running after the sweets seller; viewing the images in a bioscope, the vendor promising images of the Taj Mahal; enjoying the first refreshing rains of the monsoon whilst sitting under a tree wrapped in Durga's shawl; hearing a train whistle and running to see a train for the first time.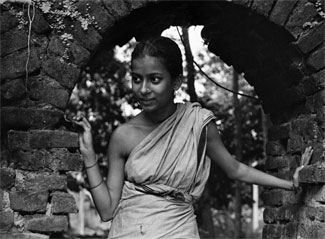 If you think that Satyajit Ray's masterpiece is only for lovers of black and white, art house cinema, then I invite you to think again. Pather Panchali is for anyone who has followed the siren call of the ice-cream truck on a summer's evening; for anyone who has mended a piece of clothing until there is almost nothing left to mend; for anyone who has sold a box of precious and favourite books just to be able to buy Christmas gifts; for anyone who has asked help of friends and family just to get by another month; for anyone who has stood out in the rain after a stretch of hot, sultry, dry weather, just to feel the freshness of each drop as it falls; for anyone who has lost a friend, or a sister, or a child, or a parent, and who still feels the grief of that loss. Pather Panchali is for all of us. Those folks at Cannes, who awarded the film for its humanity, well, they were on to something there. Pather Panchali documents the human experience, with its struggles and joys. Does it reward us for our patience? Oh, yes. It does.
Following an incredible seven-year restoration program, Janus Films proudly releases THE APU TRILOGY in North American theaters beginning on May 8 exclusively at the Film Forum in New York City followed by releases in several other major cities throughout May and June allowing film lovers of all generations to experience one of India's greatest masterpieces on the big screen. Additional cities include Los Angeles, San Francisco, Washington DC, Philadelphia, Boston, Detroit, Houston and Vancouver.