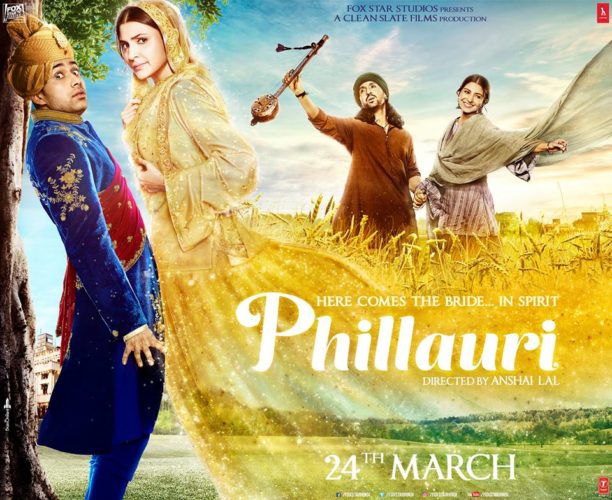 I saw the trailer for this film by chance a couple of days after it was released. It was one of those suggested videos that magically appear in your video lists and it has been on my radar ever since. As a result I broke one of my cardinal rules for film reviews – to go into a film with no expectations. Phillauri's trailer made sure I had expectations, after all a trailer that shows a concept that showcases originality, cultural traditions that most people are aware of can be nothing but a winner right?
A plot that is based around two love stories that run in parallel across two different era's, Anushka Sharma and Diljit Dosanjh in the past, Suraj Sharma and Mehreen Perizada in the present. Phillauri looks at the tradition of matching kundali's and then remedying any faults in the stars by performing a marriage with a tree. Thus enter three of our actors. Suraj Sharma, the groom who begrudgingly has to go through this process, Mehreen Perizada as the fiancée who talks our groom into the process and Anushka Sharma the ghost he ends up marrying as part of the ritual. So far so good. This original idea has a lot of potential, yet somewhere along the line this film becomes a love story of yesteryear. Something we saw in Love Aaj Kal, where two stories ran in parallel across two different time periods. So it at times feels like we have sort off been there done that – if that makes sense, however the Punjab backdrop pre independence helps to add something different.
Anushka Sharma as Shashi is perfect in her role as the quietly rebellious girl from the pind (village) pre independence where the restrictions on the women were many. In fact, I am sure the list of things they were permitted to do was far shorter than the things they were allowed to and Sharma shows some of these restrictions in a very dignified manner without pointing fingers at anyone. In an era where woman power was practically nil she shows that there was a rebellion taking place, just in a different manner. As a ghost Sharma is fantastic and more than exceeds expectation. When you do roles like this you always run the risk of becoming slightly annoying to the audience with the same jokes, situations – there is always some level of predictability. Yes those same predictable moments do appear here, but it is more than made up for with the original one liners and situations.
Diljit Dosanjh steals show in this film with his earnest performance as Roop Lal. A complete natural in his role, I cannot see anyone else performing it, which in my opinion is the mark of a performance well done. Though not on screen for long, he is the one who truly leaves an impact with his performance – be it with his dialogue delivery or with just a mere expression. I would definitely be looking to see how his Bollywood career develops.
The chemistry shared between Sharma and Dosanjh is refreshing and the moments shared between the two are magical. They truly show what a love story set in the times would possibly have like and make is believable leaving the audience rooting for them the entire time.
Suraj Sharma as present day confused groom Kanan is okay. With expressions oscillating between bewildered and highly bewildered, which can only be explained away as a demand of the character, Sharma I feel done the best he could in the role he was given. There were certain gaps I felt that could have been explored more to round of the character, possibly giving him a little more depth for example exploring the reason behind his cold feet, something which is touched upon but not truly explained.
Mehreen Pirzada as bride to be Anu gives an honest performance but at times can be monotonous, this may have been due to the lack of exploration in relationship between Kanan and Anu, but there is a marked difference in the way we root for the Roop Lal – Shashi relationship and Kanan – Anu relationship.
Anshai Lal makes his directorial debut with this film after being an assistant director on films such as Chak De! India and Dostana. Lal handles the dual love story well, drawing on parallels in the two stories to help shift between the time periods. He manages to provide two distinctly different eras off romance all the while keeping in mind the relevant changes. However there are some issues. At times the jump between the two time periods was a little bit abrupt, especially in the second half of the film. Also I feel that the second half could have done with some editing especially the ending, there were things that were shown that didn't really add anything of value to the story. However, it is a commendable debut, I am curious to see what his next project would be.
The music to the film is well suited, however 'Naughty Billo' is absent and may just have been used as a marketing tool much too the disappointment of several audience members. All other tracks lend themselves to the progression of the story and are in no way misplaced. You don't sit there and think 'why is this song here?'
Phillauri should do well at the box office as the initial trailers were well presented and were good enough to spark the interest in the audience, the challenge the film will now see is whether it can keep going through word of mouth. With a run time of 2 hours the film could have been edited by at least 10 minutes; however there are some aspects of the film that the team have managed to keep quiet about and leave till the very end to explain.
If you don't know your history it will keep you guessing, if you do it might be a bit predictable. A special mention goes to the films VFX team for making ghost Shashi so beautiful.
Go to see this film once – if only for Diljit Dosanjh.
3.5 (the extra 0.5 is for Daljit) out of 5.