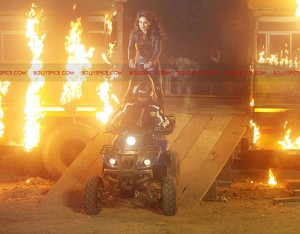 Players music launch created dhamaka, quite literally. In a first of its kind event in the history of Bollywood, the launch saw the lead actors perform amazing stunts live in front of a huge gathered audience. Never before has a music launch been held at such a lavish scale. Held at Juhu, Mumbai, the event saw the entire cast – Abhishek Bachchan, Bobby Deol, Bipasha Basu, Sonam Kapoor, Neil Nitin Mukesh, Sikander Kher and Omi Vaidya – along with the thriller expert director duo Abbas-Mustan.
Each star performed a stunt which gave a glimpse of the character he or she plays in the movie. Bobby Deol who plays the role of Ronnie displayed his illusionist skills by disappearing before the eyes of the audience from two different towers. "Jaise har chamakti cheez sona nahi hoti, jaise har remake original nahin hoti, waise har player Ronnie nahi hota!" stated Bobby giving the audience no doubt about what a smooth conster his character is. The lovely Sonam Kapoor aka Naina Briganza made an entry on stage in an armored truck which she drove through a huge gold brick wall and drove around the arena. Sikandar Kher who plays an explosive expert Bilal blew up a car while Neil Nitin Mukesh and Omi Vaidya who play a cyber-expert and a makeup artist respectively mouthed some dialogues from the movie. Omi whose comic character made an entry in a sardar avatar singing "Asee hai Kaun! (Punjabi version of 'Main Hoon Kaun')" took an indirect dig at the to-be-released Don 2 by singing a stanza from 'Main Hoon Don'! Abhishek Bachchan plays the character of Charlie Masceranhas. Junior B made a smashing entry in a red car which he drove through a glass wall with simultaneous explosions going off from all sides. "I am not a thief but an artist!" claimed Abhi, "Because stealing 10,000 crore worth gold is an art!" But by far, the stunt that garnered the maximum cheers and once mores from the audience was by sexy babe Bipasha Basu – Riya – who made a fantastic entry on the stage in a bike, going through a ring of fire and taking 360 degree spins and finally blowing up a bus. Truly amazing!
The CDs were launched soon afterwards by the star cast and Abbas-Mustan followed by an after party. The songs are racy, hip and have an element of thrill which is why the music director, Pritam Chakraborty believes that the music would do well. Vikram Malhotra who is the COO of Viacom 18 said, "For the Players music launch, we wanted to do something never done before and exhibit the kind of action you will see in the movie."
The launch definitely managed to catch the eye of everyone. The movie which will be releasing on 6th January next year is inspired by Hollywood movie The Italian Job.
Check out exclusive pictures from the event!