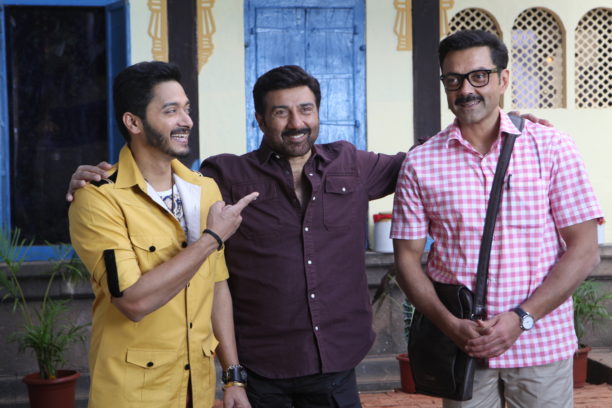 Eagerly awaited in the month of September, thanks to its quirky and curious theme, Shreyas Talpade's directorial 'Poster Boys' brings together the Deol Brothers in avatars never seen before. Donning the hat of Director and actor both, Shreyas created a shoot set so organized and fun, that the film was completed at lightening speed! Apparently the Deols had a blast working on Poster Boys thanks to which they shot their scenes at a stretch in just 37 days!
An inside source claims that 'Poster Boys' is one of Sunny Deol's fastest films completed yet in his illustrious career.
A source says,"Shreyas had never worked with the Deols and he was a fan boy of Sunny Deol. With Bobby, he did a lot of workshops before the shoot and got to know him really well. They finished the shoot in 37 days, 3-4 days in advance as per the schedule with few extra days in hand. That's how well planned Shreyas and Sony pulled off the entire schedule in one go. For the trio, on the last day of the shoot, they had no idea that the shooting is coming to an end as they had a great time filming it in Bhor."
Shreyas said earlier, "I really enjoyed shooting the film with the Deols and I am sure promoting the film with them will be equally fun. We plan to do lot of fun things to connect with the audience and reach out to them in every possible way."
Adding, "I have been getting a lot of positive feedback on the trailer and the two songs that we have released and I am very excited to show my film to the world,"
Poster Boys is produced by Sony Pictures Networks Productions, Sunny Sounds Pvt Ltd, Shreyas Talpade and Deepti Talpade. A light hearted comedy-drama starring Sunny Deol, Bobby Deol and Shreyas Talpade. Directed by Shreyas Talpade, the film is slated to release on September 8th, 2017.