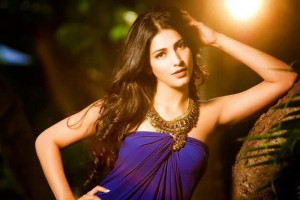 Looks like Ms Haasan believes in making an entry with a bang! She's all set to start the new year off getting set for having 4 films release – Gabbar opposite Akshay Kumar, Rocky Handsome, Welcome Back opposite John Abraham and Yaara opposite Vidyut Jammwal. Combining that line up with her work in the South, Shruti will be seen having 6 releases in all. This number is the highest for any A league Indian actress today.
Says a source, "She's been working tirelessly, round the clock juggling between her film and brand commitments while also making time for her music. She's got a very interesting line up that spans various genres and ensures different looks and character graphs for Shruti. As a performer, doing myraid work is always fulfilling."
Well given the success of 'Joganiyan' and the rage with her latka matkas in 'Madamiyan', one can only expect some more a** kicking from his uber edgy and cool leading gal!