Preity Zinta has turned Brand Ambassador for Roop Mantra Ayurvedic Cream. "It's nice to go more organic and Ayurved is the route for it. I am happy to be associated with Roop Mantra," says the actress. Conceived and Directed by Prabhakar Shukla, ad's tagline is 'face rahe bright, skin ho tight'. Dr. Sanjeev Juneja is the man behind RoopMantra and company Divisa Herbal Care. "We took Preity because she has roop as well as mantra for success."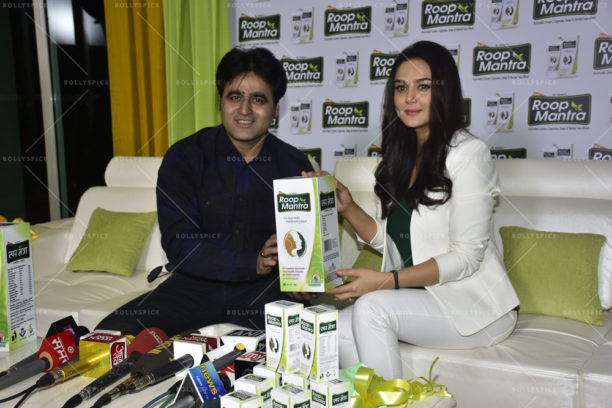 About Prabhakar Shukla
Director Prabhakar Shukla, an advisory Panel Member at CBFC, is known in Bollywood for his realistic cinema like 'Kahani Gudiya Ki'. Based on the life story of a woman by the same name, Gudiya's husband was declared dead in war with Pakistan. However, after her remarriage and birth of a child, he comes back from POW camp and claims her back. This film has received more than one crore views on YouTube and was nominated for National Award in many categories. His forthcoming film is 'Fulena Nights', which once again, is a real story of pain and travails of men who don female garbs to dance in nautanki and play female characters. This film is in post production. Director in P&A Media Ventures, Prabhakar Shukla has written and directed more than 280 commercials. Many of his commercials features actors like Hema Malini, Amisha Patel, Bhagyashree, Mauni Roy, Avika Gaur, Mahima Chowdhary, Rashmi Desai, Apara Mehta and others.
About Divisa Herbal Care
Divisa Herbal Care is one of the leading Ayurvedic firm in personal & healthcare segment in India. It is well-endowed with ancient knowledge of Ayurveda and combining it with modern cutting edge technology. Besides Dr Ortho, Pet Safa, Sahi Saheli, Accumass etc products, Roop Mantra is one of the major product ranges from the company, which delivers cost effective products to manifest in various health segments ranging from nutritional to health supplements. From the house of Dr. Sanjeev Juneja, it is encircled with rich scientific output using GMP guidelines to easily take care of people's needs.
Working as a team, Divisa Herbal Care maximizes the usage of all ingredients used in effective production and never compromises on the quality of the product.