Directed by Ali Abbas Zafar and Produced by Aditya Chopra, the highly anticipated Gunday stars Ranveer Singh & Arjun Kapoor, as Bikram and Bala, along with Priyanka Chopra and Irrfan Khan, in lead roles.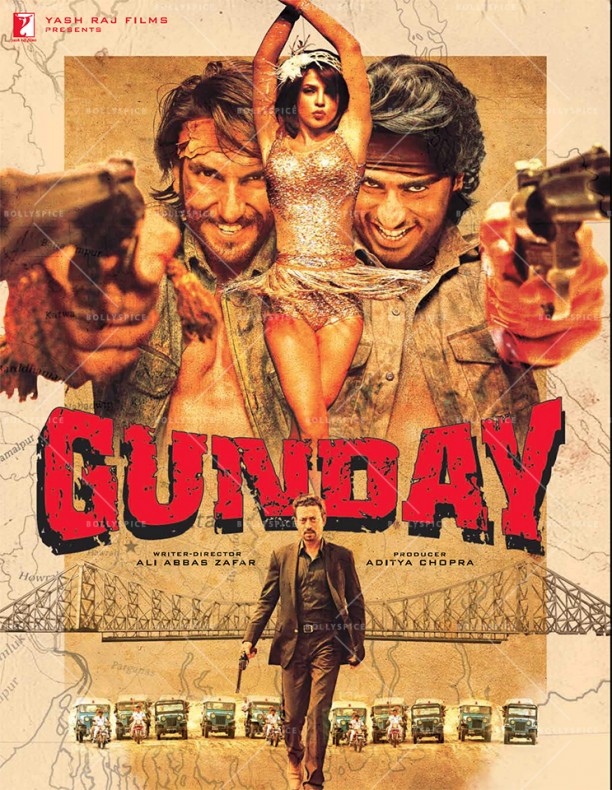 When they ran to save their lives for the first time, they were mere 12-year-old boys, and the world called them 'refugees'.
The war of 1971 gave birth to a new country – Bangladesh. It also gave birth to two young orphans – Bikram and Bala. The witnessed the war and its aftermath, where the world tried to trample over them. Fighting for survival, they clung to each other and escaped to Calcutta.
Before they knew the world, they knew each other. Such was their bond, such was their friendship.
Each time they sought new beginnings, each time they would rise, the world would crush them down. So, they fought again… and again. Together they were unbeatable. They were unstoppable. They were inseparable.
In the years that passed, Bikram and Bala, became Calcutta's most loved, most celebrated, most reckless, most fearless and most powerful GUNDAY!
They had everything… then, one fine day, bells rang…
Nandita, the most beautiful cabaret dancer, walked into their lives, and they lost everything to her. Their murky world turned magical and colourful. They fell head over heels in love with her.
But that was only a blissful lull before an impending storm…
And then entered ACP Satyajeet Sarkar, the right for every wrong, a law for every outlaw and a counter force for Bikram and Bala.
What follows from here is the most sensational-most thrilling-most dramatic story ever told!
The CAST
BIKRAM (Ranveer Singh)
This is 1987 and Calcutta lives and swears by the legend of Bikram and Bala. If Bala is the muscle, Bikram is the mind. Bikram, the elder of the inseparable duo, is the driving force of their illegal business. Ruggedly handsome, charming with a deep inner strength, Bikram will go to any extent for those he loves. His maturity belies his age and experience. He trusts his guts and sticks to his guns.
BALA (Arjun Kapoor)
If Bikram is the ice, Bala is the fire. Younger of the two, he is impulsive like a child and possesses a tendency to boil over at odd confrontations. Strongly built, Bala is passionate and fiercely loyal to the one close to his heart. He is expressive and honest and doesn't know when to hold back his emotions. An artist at heart, he is gracious and generous with the needy. He lets his actions speak more than his words, especially at the heat of the moment.
NANDITA (Priyanka Chopra)
At a time when Calcutta saw the rise of Bikram and Bala, another name became just as known… Nandita. There was a mystery to Nandita, a pretty Calcutta girl by daytime, she transforms into an alluring diva by evening. All admirers who ever set foot on the Calcutta cabaret floor, vouched for one thing – Nandita was the most beautiful dancer to have ever graced a night-club. It was her beauty and charisma that drew Bikram and Bala to her instantly.
SATYA (Irrfan Khan)
ACP Satyajeet Sarkaar, is a rogue cop who is a legend within the Calcutta Police. He has a history of catching the most notorious of criminals by playing by his own unconventional rules. He enjoys a good duel with his adversaries. A scheming mind, a crafty warrior and a man with an ice cool temperament – he is a great judge of a situation. Whether to go for a kill or to hold back, not many are blessed with such strategic insights. His demeanour keeps him one step ahead of his opponents.
The TRAILER
The STILLS
This slideshow requires JavaScript.
The WALLPAPERS
This slideshow requires JavaScript.
So when can you see this in all its glory? You can celebrate this Valentine's Day – GUNDAY style!