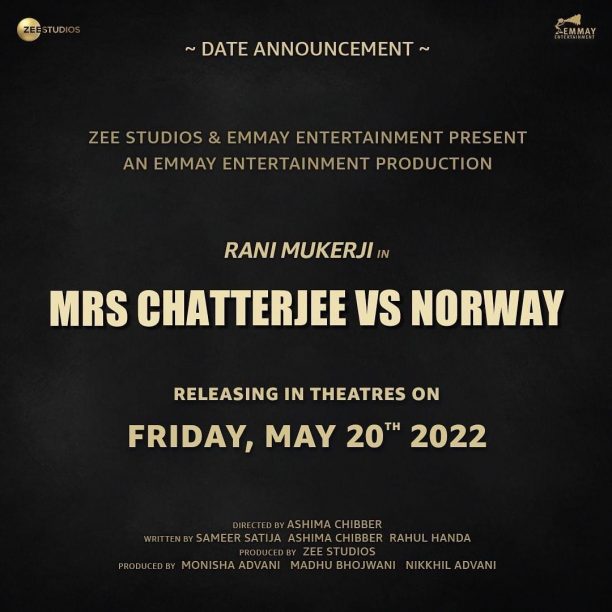 Starring Rani Mukerji's Mrs Chatterjee Vs Norway is based on a true story of a mother's battle against an entire country for two years to get her children back. Directed by Ashima Chibber, the film shot in Estonia and India , wrapped in October. Produced by Monisha Advani, Madhu Bhojwani, and Nikkhil Advani's Emmay Entertainment and Zee Studios, this highly anticipated film is getting ready for release, and we have the date.
Emmay Entertainment wrote, "With the odds against her, this mother must fight it all and more to be strong for her children! Inspired by a true story, #MrsChatterjeeVsNorway starring #RaniMukerji releases in theatres on Friday, May 20th, 2022!"
When announcing the project, the actress said, "Mrs Chatterjee vs Norway is a story of true human resilience, and it is a film that is dedicated to all the mothers out there. It is truly one of the most amazing scripts that I have read in a long time, and I immediately decided to do this special film."
Upon wrapping the film, the actress said in a statement, "Mrs Chatterjee Vs Norway is an inspirational story about a mother fighting a country for her children, and I went through a rollercoaster of emotions shooting this film."
Adding, "I had an amazing time shooting with my producers Monisha Advani, Madhu Bhojwani, Nikkhil Advani, Zee Studios and director Ashima Chibber. I'm hoping that this film will resonate with everyone who wants to see an entertainer with a brilliant concept at its fore."
We can't wait to find out and see more, and you can be sure we will bring you all the Mrs Chatterjee Vs Norway news!