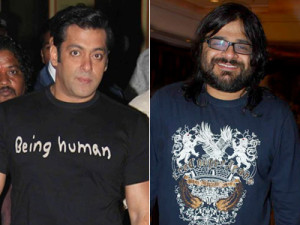 Talented music composer Pritam Chakraborty is a busy man these days with back to back projects lined up. He is however thrilled after the success of his song 'Selfie Le Le Re' in Salman Khan's next movie Bajrangi Bhaijaan.
The last few times that Pritam and Salman Khan had paired up, their songs – right from 'Character Dheela' (Ready) to 'I Love You' (Bodyguard) among others – had become instant chartbusters. And looks like history is repeating itself, as fans give a thumbs up to their newest track, 'Selfie Le Le Re' from Bajrangi Bhaijaan. Buzz is that this much-awaited song is proving to be an even bigger than Pritam's past massive hits with Salman. The ace music director is thrilled with the response the song has been garnering. A source says, "The song is more special to Pritam as this is the first song that has been released post his year-long break. And now that he's back he looks to be in his top form and naturally he is excited with his comeback number becoming such a hit. Moreso, since there is always a pressure on the musician to churn out nothing but the best for a Salman-starrer."
'Selfie le le re' has become an instant hit since since its recent release. B-town and fans have loved the catchy beats of the song and have expressed their appreciation on twitter. Vishal Dadlani who sang the super hit song, tweeted crediting the success to Pritam and Mayur Puri, the lyricist. He said, "All credit for #SelfieLeLeRe belongs to @ipritamofficial and @mayurpuri! I was just a last –second add-on! But thank you for all the love."
With the first song creating such madness all around, we can't wait to see what he has in store for fans in the year ahead. With Bajrangi Bhaijaan, Phantom, Jagga Jasoos, Ae Dil Hai Mushkil and Dilwale, there is a lot to look forward to!