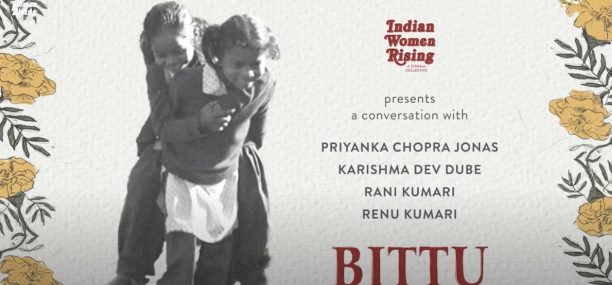 Bittu, written and directed by Karishma Dev Dube, has certainly created a stir lately and has made headlines across the world for making it to the short list for the Oscars live action category. As well as it's rave reviews from all over the world.
This week, a very special video conversation was held with the director, the child cast of the outstanding Bittu and Priyanka Chopra Jonas. Priyanka Chopra Jonas took part to show her support for the film and to an amazing fundraiser event.
The incredibly moving film features first time actors picked from the locals of Uttrakhand. The two children/actresses awed audiences across the globe with their surreal performance on the screen.
The film is being supported by Indian Women Rising a cinema collective founded by Ekta Kapoor, Guneet Monga, Tahira Kashyap Khurrana and Ruchikaa Kapoor Sheikh. Initiating a fundraiser recently in collaboration with 'Educate Girls USA', a NGO founded by Safeena Husain, the team aims to raise funds for the education of the young leads Rani and Renu Kumari.
This initiative gained massive support from the global icon and UNICEF Goodwill ambassador Priyanka Chopra Jonas. E-meeting the girls over video call accompanied by the director Karishma Dev Dube, Priyanka indulged in a candid and fun and amazing conversation with the girls.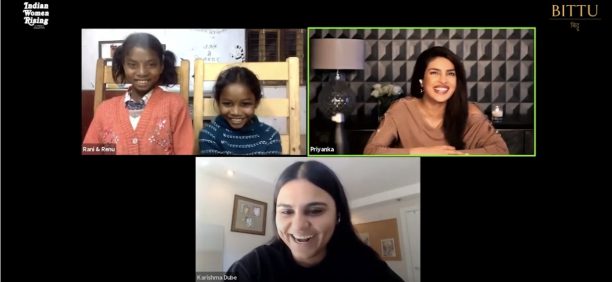 Talking about their experience of working in a film, acting in front of the camera, Priyanka brought smiles to the girl's faces with her fun banter. Tracing the journey of the director as well with the girls Priyanka discussed the film with director Karishma giving insights into the Oscar contender.
In awe of the film and the authenticity and the reality of the film Priyanka gave a big shout out to the fundraiser urging people to support this beautiful cause. Supporting and standing by the cause herself Priyanka bid goodbye to the lively yet shy girls wanting to meet them some day for sure.
Be sure to check the conversation out

Also be sure to check out our rave review here.
You can also do your bit by contributing for the education of Bittu and Chand: https://www.globalgiving.org/projects/support-bittu-and-chand/