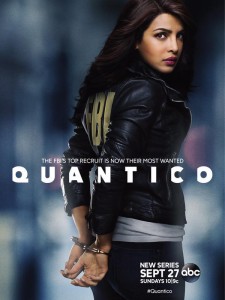 Priyanka Chopra is the latest Bollywood star to make waves on the international scene. Ahead of the premiere of her primetime ABC show, Quantico, U.S. media is buzzing about this former Miss World…and they're excited for what she has in store!
Quantico, a thriller series about a group of FBI recruits, is all set to premiere on September 27 and the promotions are in full force. Major cities like Los Angeles and New York are plastered with billboards while ABC is running countless commercials about the upcoming series.
Renowned entertainment media is also going gaga over Priyanka, who's the main protagonist of the show. Entertainment Tonight named PC one of the three breakout stars of this year's fall TV season. They note, "Priyanka Chopra may look like a bombshell on the outside, but this 33-year-old actress is a complete and total badass [on Quantico]."
The Hollywood Reporter also named Priyanka among the "Top 10 Hot Stars to Watch." PC's reaction? Humble as always. "Now let's just hope I pull it off," she tweeted.
Priyanka is also getting some positive attention from her fellow Bollywood colleagues. "…omg just got back to LA and you are everywhere I am driving! You get it girl!! #proudindian," Sunny Leone recently tweeted to Priyanka.

Meanwhile, PC has been all over Instagram lately with behind the scenes tidbits from the series. Looks like she's just as pumped as we are for this new chapter in her career.