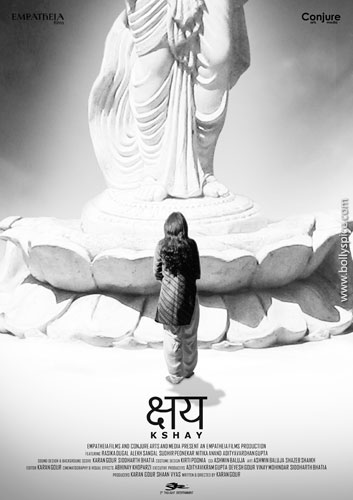 For film lovers in India, the month of June seems to be a great month for indie-spirited cinema. Be it Dibakar Banerjee's Shanghai or Anurag Kashyap's Cannes pick Gangs of Wasseypur. Joining the bandwagon is a relatively obscure indie feature film which won the Grand Jury Prize at the Indian Film Festival of Los Angeles 2012. Karan Gour's Kshay has been doing the festival rounds for the past 6 months bagging awards and high levels of critical acclaim. The film is scheduled for a theatrical release on the 15th of June under the 'PVR Director's Rare' label.
The film revolves around a lower middle-class housewife's obsession to possess an unfinished statue of the Goddess Lakshmi. And how this obsession infects everything around her – her home, her dreams and even the only family she's got, her husband Arvind.
Kshay has been produced independently over 4 years with a two-man crew – the director Karan Gour and the DOP Abhinay Khoparzi. Karan has also written, edited, co-produced and done the sound design of the film. The film stars Rasika Dugal (No Smoking, Agyaat) and Alekh Sangal (Summer of 2007).
Mr. Sanjeev Kumar Bijli, JMD, PVR Ltd., says, "I feel extremely delighted with release of the movie Kshay, as it is the fifth movie releasing under PVR Director's Rare Banner. The previous movies, Good Night|Good Morning, Chaurahen and The Forest, have received an overwhelming response from the audiences and industry insiders alike. For Kshay, we have our hopes high, as it is one path breaking movie that takes an unforgiving look at obsession; how it infects the frailty of our minds, corroding reasoning, reality and emotional fulfillment. We hope to bring more such movies to our discerning audience and are positive that our efforts of delivering meaningful cinema to people will be successful."
The Director, Karan Gour says "PVR Director's Rare comes in at a ripe time for Indian independent cinema. Our film is in black-and-white and without any stars or songs and it's really brave of them to support such a film purely based on content. We are excited to see how Indian audiences will react to our film. Even if we slightly alter the paradigm set by commercial cinema and show our audiences a totally different kind of cinema, our goals are achieved."
The film will have a limited release in Mumbai and Delhi on the 15th of June, with plans to expand it to other cities.
About Director's Rare Film Banner
PVR Director's Rare is the recently launched alternative programming initiative of PVR Cinemas to support the theatrical release of critically acclaimed, small independent films. Hardcore film buffs will no longer have to choose between catching world cinema masterpieces on a small screen or waiting for once a year festivals to bring the latest independent films to theatres.
Director's Rare will be regularly bringing award winning and critically acclaimed films from across the globe to the discerning audience. It includes masterpieces of iconic filmmakers as well as latest films from the film festival circuit.
The films are carefully handpicked by PVR's expert curators. In a given week the audience can watch a much admired classic or a relatively lesser known gem. These selected films will be highly content driven, engaging and entertaining & will be showcased at PVR Director's Cut and at selected PVR Cinemas pan India.