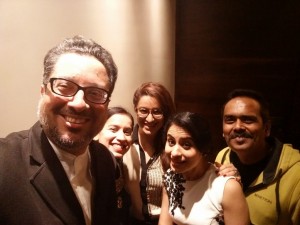 NFDC's internationally acclaimed film, Qissa, was screened for friends from the film fraternity last evening. Present at the event were eminent film personalities like Waheeda Rehman, Shabana Azmi, Tigmanshu Dhulia, Anand Gandhi, Ashim Ahluwalia, Goldie Behl and Swara Bhaskar, all of whom were excited to see the critically acclaimed movie.
The evening progressed as the big names of the industry mingled around with the cast and clicked pictures with them. They also posed with the poster of Qissa on the red carpet. The movie that has been doing phenomenally well at all film festivals, in India as well as abroad, was clearly the talk of the fraternity. Waheeda Rehman, one of India's iconic leading ladies had praiseworthy words to say about the film. "It's a very beautifully made movie and everybody's performance is absolutely great. In the beginning, oh my God, something happens in your stomach, churning like, it holds you," she said.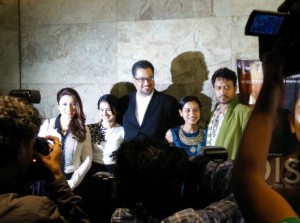 "I am speechless. I think this is one of the films where you really feel the power of cinema and art because it precisely just renders you sort of speechless and you take so much away with you. Tremendous performances by everyone, of course Irrfan Sir and Tisca Ma'am, but I think that Tillotama and Rasika have outdone themselves and definitely it's also the script that gives actors opportunities so it's really the kind of script and film that actors would be really lucky to be a part of. I think it's tremendous and definitely people should watch it," said the talented Swara Bhaskar.
With all the good reviews Qissa has garnered, we can't wait to go watch it ourselves!