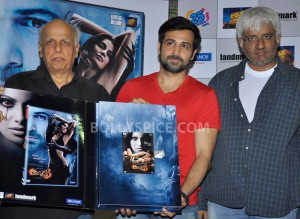 At a star studded event, Reliance Home Video & Games launched the home video of Raaz 3. Among those present were Mahesh Bhatt, Mukesh Bhatt, Vikram Bhatt, Emraan Hashmi, writer Shagufta Rafique and Reliance Home Video & Games COO Sweta Agnihotri. The film, presented by Fox Star Studios & produced by Vishesh Films, has been directed by acclaimed filmmaker Vikram Bhatt. Raaz 3 stars Emraan Hashmi, Bipasha Basu and Esha Gupta.
Raaz 3 is set against the backdrop of the glitz, lights, glamour and back-stabbing cruelty of the entertainment world; a fading movie diva Shanaya (Bipasha Basu) turns to Black Magic to thwart an upstart young starlet Sanjana (Esha Gupta) on her way to usurp the position Shanaya once held. Sanjana ruthlessly turns against the girl, using her lover Aditya (Emraan Hashmi), a man who owes her his career, as a pawn. Things go awry when Aditya falls in love with the Sanjana despite himself and avows to protect her against the evil that is consuming all of them.
With the weight of two formidable successors, Raaz 3 (the third in its series) falls prey to clichés and stereotypes. While Emraan and Bipasha are bankable stars in this genre, they expectedly put in earnest performances to grab the viewers' attention.
Speaking about the DVD Mahesh Bhatt said," I was completely intoxicated with the response we got on the opening day, and today I am proud to launch Raaz 3 the 'baap' of all horror films on DVD, now experience this path breaking horror film in 3D DVD at home." True to word best viewed as a 3D watch, improvement to the otherwise predictable bits, could have done great justice to the little spooky sequences. Not enough meaty punches or lunacy that'd give you sleepless night, the DVD's clear quality DOLBY digital sound and couple of truly unnerving moments make it a decent home video watch.
The movie is available in a variety of formats to suit your home-viewing pleasure – Anaglyph 3D Blu-ray (MRP: Rs.799), Anaglyph 3D DVD (MRP. Rs.399), 2D DVD (MRP. Rs. 299) & VCD (MRP. Rs.125).