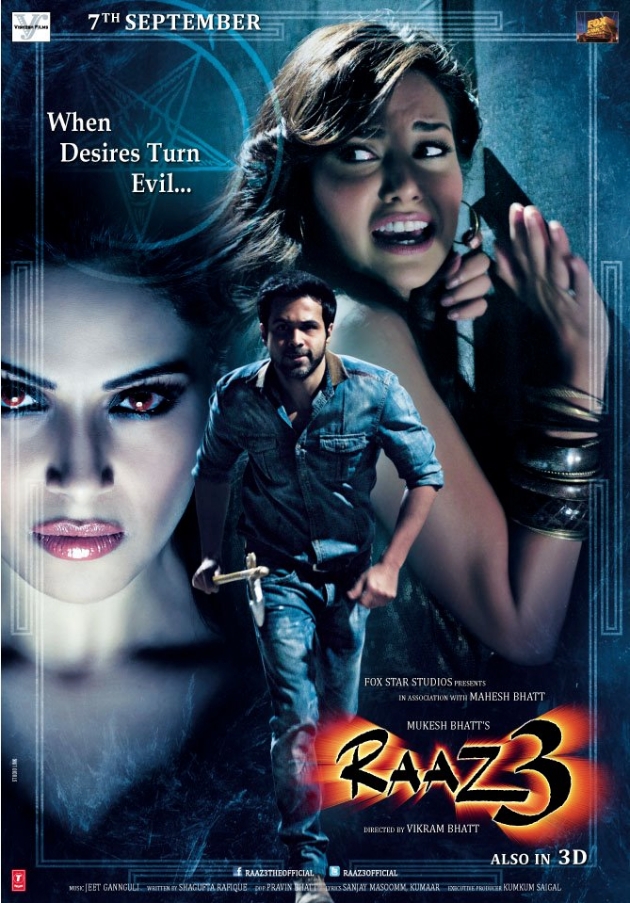 Raaz, even though a Hollywood rip-off, was a turning point in the horror genre for Bollywood and also the Bhatts. Now two sequels later, Raaz 3 has the original female lead and the director back again in an attempt to spook us.
Shanaya (Bipasha Basu) is a top actress who has been losing the best actress award for the past few years to the new entrant, Esha Gupta. Even though her director boyfriend Aditya (Emraan Hashmi) tries to console here, Shanaya decides that she wants to get back her status at any cost. In desperation she turns to black magic, using it to make Esha look like crazy with Aditya's help. However, when things start to get too much out of hand, Aditya decides that it's time to put a stop to Shanaya's antics.
Considering how Bollywood always ends put with ludicrous concepts for horror movies making it impossible to connect with them, Raaz 3 is no different. Shagufta's storyline is so flimsy that it really does make you laugh. Having caught the movie in 3D, I can stay that the special effects are decent enough but the scares itself are far and few in between. A girl going alone in a dark isolated place at night yelling "Kaun hai wahan" is a done to death thing and yet Raaz 3 bases it scares entirely on this. To its credit there are a couple of scenes which will make you jump out of the seat but the number of such scenes are too low for a movie which claims to be a horror flick. The first half runs at a good pace but post interval, the movie loses it steam and all you can do is laugh at the juvenile attempts to create fear.
The dialogues are another pain. I am not sure what it is with the Bhatt's but the theatrical-80's style dialogue makes the characters seem very fake. After Jism 2, you again encounter those corny dialogues in this movie which make you laugh out loud. Sample this "Bharosa tha mujhe ki tum bharose ke layak nahi ho". The music, which has always been a plus point of Bhatt/Hashmi movies is sadly very average with hardly any memorable tracks.
When one talks of the performances, Bipasha's portrayal of Shanaya is one of the few plus points of this movie. It's her movie through and through. Bipasha manages to bring out the evil in her character pretty well and I am sure would have been more wonderful if the screenplay had given her more scope. Hashmi has nothing much to do with limited expressions but it's more a fault of the script than his acting. Esha Gupta still hams but unlike some other actresses, I am sure this one keeps learning and trying to improve with each movie. There are very few characters in the movie and all of them are strictly average.
With movies like Cabin in the Woods around, Raaz 3 seems very silly to say the least. Maybe, if the Bhatts thought further from jaadu-tona, we could get a horror movie which actually does make our spines chill.