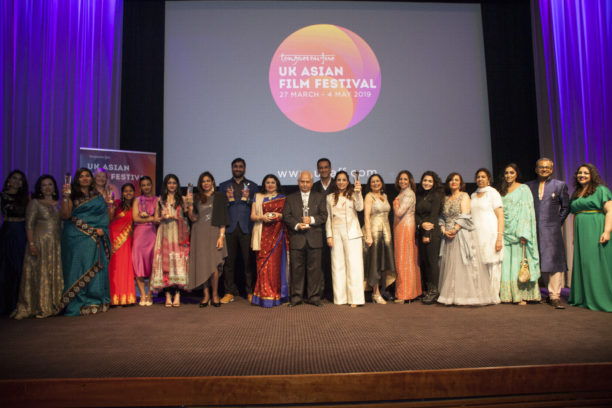 Iconic filmmaker Ramesh Sippy and actresses Radhika Apte and Shabana Azmi were among the screen talents and creatives to be honoured at the Closing Flame Awards Gala of the world's longest running South Asian film festival outside India, UK Asian Film Festival. The ceremony took place on Sunday 7th April at one of the world's most iconic venues to celebrate international and homegrown filmmaking, BAFTA 195, Piccadilly.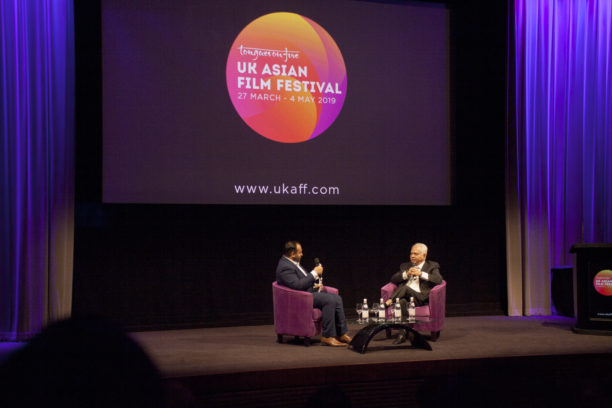 The evening also featured an In Conversation with Ramesh Sippy, discussing his cinematic journey from one of Indian cinema's most iconic films of all time, Sholay, to other timeless classics such as Andaz, Seeta Aur Geeta, Shaan, Shakti and Saagar. One of the most sought after, new gen Indian actresses, Radhika Apte, discussed onstage the changing face of Indian film and entertainment consumption globally and shifting audience habits.
UK Asian Film Festival 2019 had screenings in five cities across the UK, Edinburgh, Glasgow, Leicester, London and Manchester, and ran from 27th March until 4th May 2019, supported by the BFI with National Lottery funding and Regional Screen Scotland.
At a time of significant change, UK Asian Film Festival this year marked its 21st anniversary with a curation inspired by the theme of Revolution. Historically known as Tongues on Fire and then London Asian Film Festival, the festival is also synonymous with championing South Asian feminist films and supporting pioneering, female artists and auteurs.
Honouring Revolution through the vehicle of South Asian Cinema, UK Asian Film Festival looked at the #MeToo movement gathering momentum in the Indian and Pakistani film industries and the decriminalisation of homosexuality and the repeal of Section 377 in India last year. The festival celebrated pioneering icons from South Asian cinema and presented a series of milestone films that signify society-led change. The Opening Gala Launch on Wednesday 27th March, The May Fair Hotel welcomed one of the most revolutionary actresses in the history of Indian cinema, Zeenat Aman.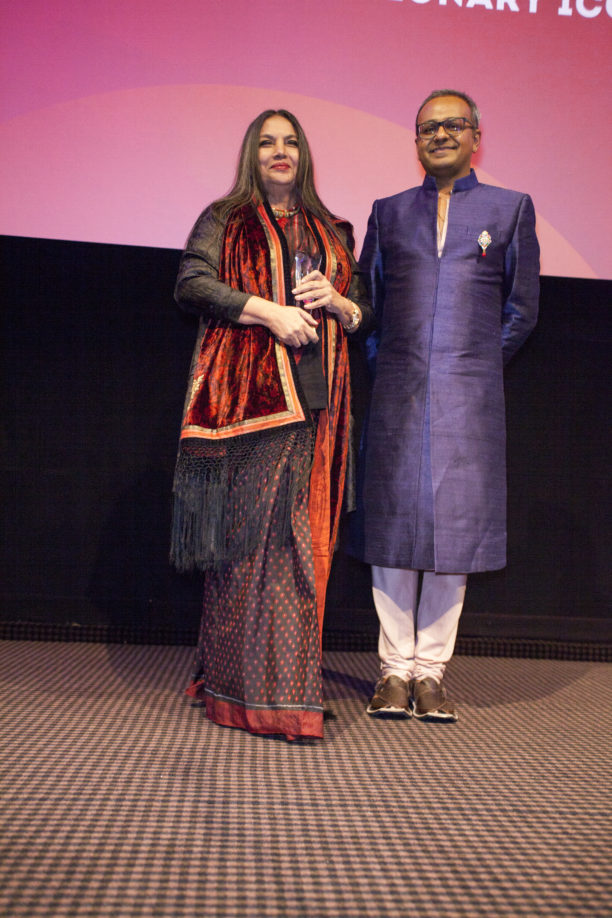 In her keynote speechat the Closing Flame Gala Awards, actress Shabana Azmi said, "I look at the festival programme and see that 34 films are made by women. That's really quite a record number. I have always wondered why women filmmakers have resisted the prefix 'women filmmakers', because I believe the fact that they are women should inform their gaze. I'm not saying the subject, they can make thrillers, murder mysteries and romantic films. But the fact that they are women, I hope would inform their gaze. Diversity is one of the most urgent themes of our times, we need to celebrate that and what better a forum to do it through than films? I believe that all arts, particularly films, have the possibility of creating a climate of sensitivity in which it is possible for change to occur. It's important, as Asians, that we are able to watch our own films, tell our own stories and celebrate the diversity that we have today."
"To be responsible for festivals like this, reaching even newer heights and making sure that more British Asian filmmakers are nurtured and supported. As patrons, I hope you will encourage more people to come and watch these films, as supporters I hope you will recognise how important it is to celebrate festivals of this kind and help them grow."
About the festival, film director Ramesh Sippy said, "They have come a long way and seem to be growing bigger and better, with smaller, nicer films and all those lovely films that we may not otherwise get to see. Once films like this come into the limelight and they can do even bigger work."
In conversation onstage, actress Radhika Apte explained, "As an actor, to be able to portray different things and go into those uncomfortable spaces and try to do things is very challenging. There are so many things that don't agree with me in the industry and in the world but I think you need to choose your battles and when you gain a little more power there's something you can do about that. You should make sure, when you have the authority, that you are making something happen."
Speaking about the festival, Dr, Pushpinder Chowdhry MBE, Festival Director said, "Our vision is to change societal taboos through conversation prompted by cinema and make independent South Asian films and talent accessible to all UK wide audiences. We now kickstart our out-of-festival programming with a number of free screenings and events from May to July that will offer an alternative gaze in to South Asian cinema."
Speaking about the festival's Young Curator Lab and Youth Gala and Young Critics Vote for the Short Film Competition, Samir Bhamra, Creative Director, UK Asian Film Festival said, "We embarked on an epic journey to find diverse young people from all over the UK and listened to their interests. To train them and then to give them control to curate a section of our festival programme and to judge our competition."
Tongues on Fire Flame Award-winners 2019:
Winner of TOF Short Film Competition: Belmaya Nepali for Educate Our Daughters
TOF Flame Award for Young Achiever: Laraib Atta
Young Curators Choice for Best Film of Festival: Chegu
Flame Award for Making Waves: Radhika Apte
TOF Award for Best Documentary: Roopa Barua for Daughters of the Polo God
TOF Award for Best Director: Madhumita for KD
TOF Award for Best Actor: Rasika Duggal for Hamid
Audience Choice award: Pinky Memsaab, Shazia Ali Khan, director and writer
TOF Award for Best Film: Hamid, director Aijaz Khan but collected by producer Shoaib Lokhandwala
TOF Golden Flame Award for Trailblazing: Shabana Azmi
TOF Lifetime Achievement Award: Ramesh Sippy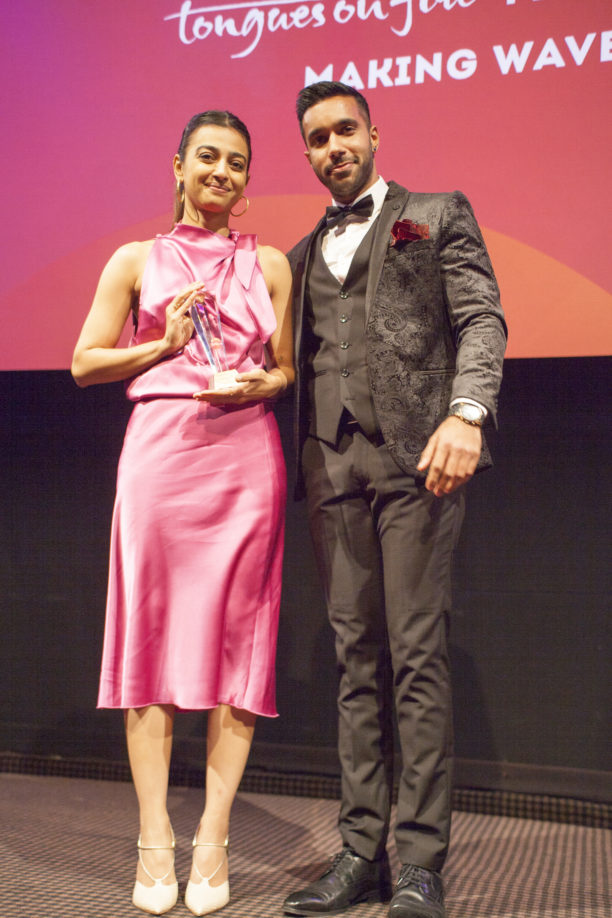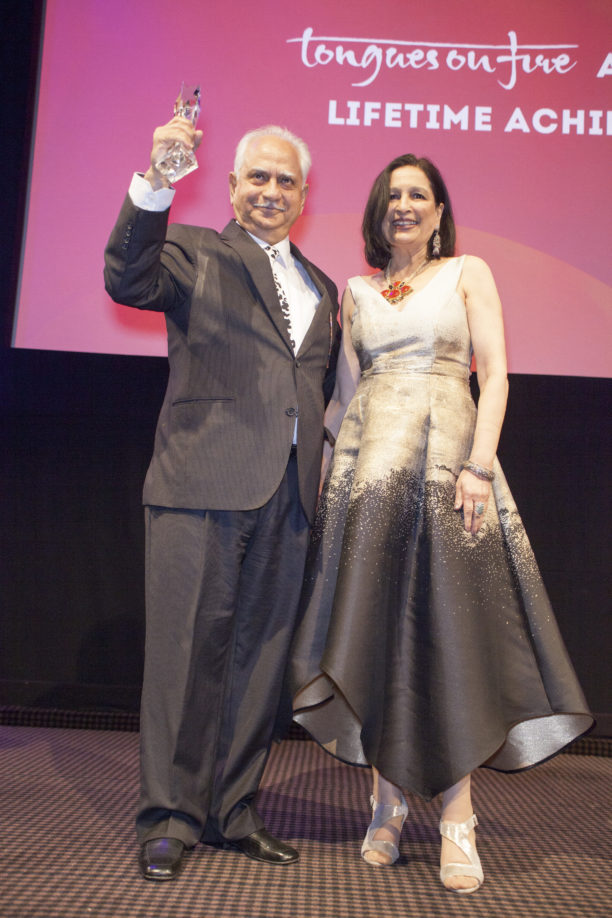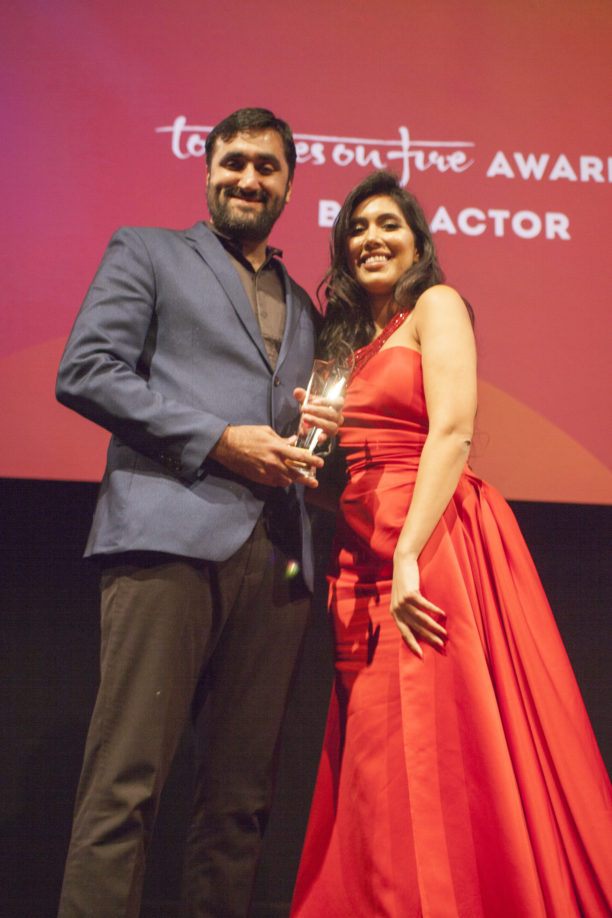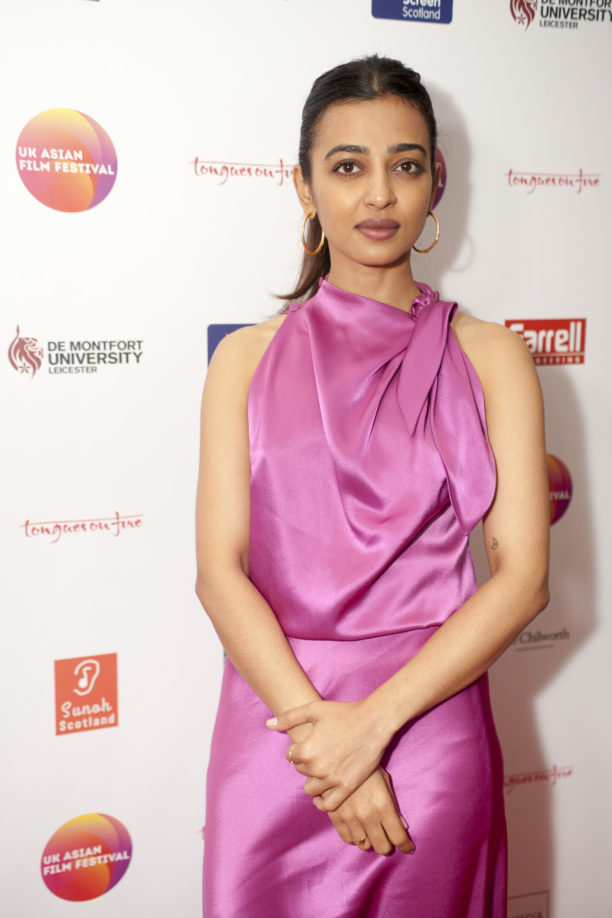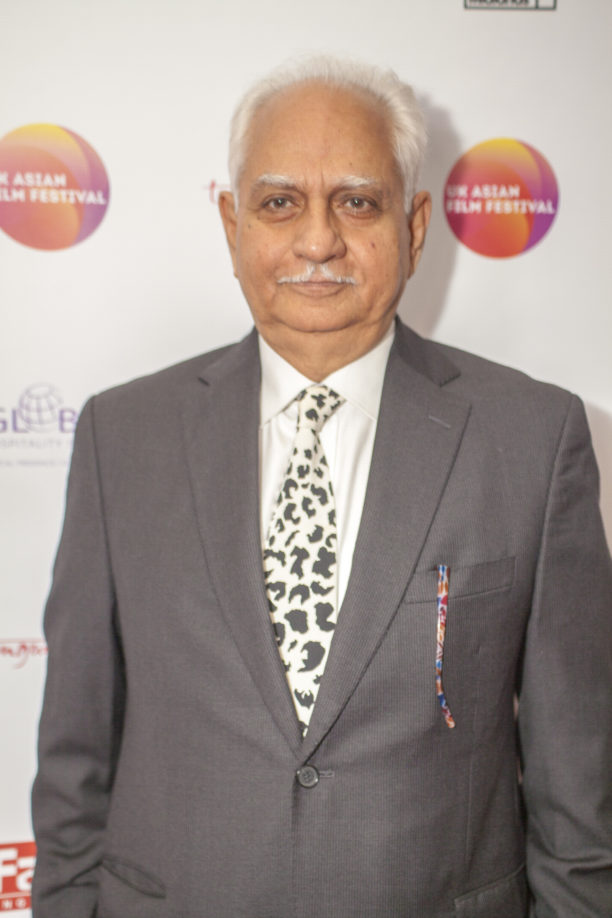 (Photographer Credit: Motions Media)
Also be sure to check out our incredible chat with the iconic Zeenat Aman here!