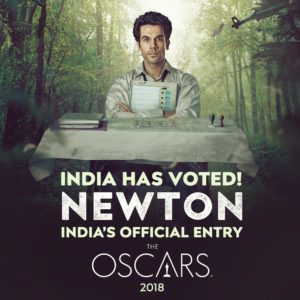 Starring Rajkummar Rao, Newton has received accolades at international film festivals the world over including the Berlin Film Festival, Tribeca, and the London Indian Film Festival among others earlier this year. Now the Eros International, Colour Yellow Productions and Drishyam production has been chosen as India's official pick for Oscars 2018 in the Foreign Language Film category.
Rajkummar took to his social networking site to share the big news and congratulated the entire team of Newton. He wrote, "It's amazing! Newton is such a unique and a special film for all of us. It's a film which has been made with so much purity and honesty, without keeping any commercial aspects in mind. It's a simple, honest story and it's resonating with everyone. The response that we have been getting from the critics also is huge. I really hope this translates on to the box office as well. Now, more number of people would be interested in watching Newton!"
Director Amit V Masurkar says, "It's a great honour for us to represent India at the Oscars. We hope this film will bring attention to the need to strengthen democracy in our country. The film is in theatres at the moment and this announcement will help us reach out to a larger audience."
Sunil Lulla, Managing Director, Eros International Media Ltd says, "It gives us immense pleasure that Newton is India's official entry to Oscars 2018. We at Eros are extremely proud as this film is totally deserving of this huge honour and we will continue to back good cinema as always."
Manish Mundra, founder of Drishyam Films and producer of Newton says, "This is the most incredible news of our lives – all of our hard work and faith is finally paying off. Newton is a very important film and we cannot thank the Film Federation of India jury enough for recognising and appreciating our efforts. There is truly no greater honour than representing our country at the global stage. And for the news to be announced on the day of Newton's theatrical release across India – the stars are truly aligning for us. The critics have spoken, and now we cannot wait for our Indian audiences to go watch the film in the theatres."
Aanand L Rai of Colour Yellow Productions adds, "Good films need to reach the audience. Period. We as a production company are lucky to be in a place that we can be instrumental in this process. Over the years people have found connect with Colour Yellow Productions and good storytelling and we don't want to let go of any opportunity that we get in this regard. Newton is an important film and we will call it an investment not a punt. We really believe the film it's getting what is deserves and hope it soars more heights."
We here at BollySpice saw the film at the prestigious London Indian Film Festival earlier this year. In her rave review, Katherine Matthews singled out 'the deft writing and dark humour, the cinematography (by Swapnil S Sonawane who was also the DP for Faith Connections and Angry Indian Goddesses) and its fine performances'.
Eros International and Aanand L. Rai present, a Drishyam Production, in association with Colour Yellow Productions, written and directed by Amit V. Masurkar, Newton released on September 22, 2017.