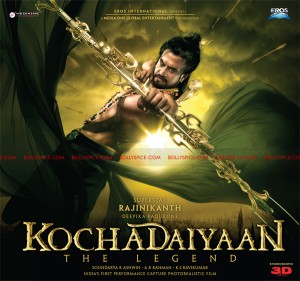 Just yesterday, we told you about the upcoming innovative film Kochadaiyaan, which stars Rajnikanth, Deepika Padukone, Jackie Shroff and South India's leading stars R Sarathkumar, Aadhi and Shobana. Today in London, Rajnikanth, along with AR Rahman and director Soundarya launched Kochadaiyaan and BollySpice was there! To hold you over until we can complete our full report we thought we would show you 3 exciting things! Not only do we have pictures from the event and a new poster we also can show you the exclusive trailer they showed at the event.
What is so cool about Kochadaiyaan is that it is India's first film that is being made with Performance Capturing with Photorealistic Technology. You have seen this technology and techniques used in films like Avatar and Tin Tin but from what we understand this state-of-the-art advanced technology transcends the CGI capabilities utilised in Hollywood films.
Not only does it boast screen legend Rajnikanth, who is cast as the archetypal superhero in the epic dramatisation of good versus evil, but the film's score is also being composed by master AR Rahman.
The British funded project, which has been shot exclusively at the famous Pinewood Studios in the UK with a team of world-class technical experts, is directed by Soundarya, a talented and forward thinking filmmaker who is well versed with various trend setting techniques.
With pioneering technology, a stellar cast and a winning storyline, Kochadaiyaan certainly looks to be a film we must all check out!
First up we have this making of the video teaser, so you get an idea of what to expect!
httpvh://youtu.be/frnwmHMQf1M
Then we have these shots from the event.
We will have a full report coming soon with quotes from Rajnikanth, AR Rahman, director Soundarya and producer Dr J Murali, so watch this space for much much more!