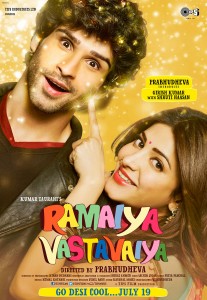 Yet again Prabhu deva comes up this week with a South movie remake – his debut Telugu movie by the way – with Girish Kumar-Shruti Haasan starrer Ramaiya Vastavaiya. A rehash of Nuvvostanante Nenoddantana, which itself was inspired by Maine Pyaar Kiya, this rich boy-poor girl done to death saga has very little new to offer and comes off as a disappointing affair.
The story is extremely predictable – America returned Ram and gaon ki chori Sona meet at a wedding and after being at loggerheads for some time, fall in love with each other. Of course this does not go down well with lover boy's parents who want him to get married to another rich girl selected by the mom. After getting insulted by his relatives, Sona and her very protective brother Raghu (Sonu Sood) return to their village. Ram who comes to know of this later, follows Sona to her place and in order to prove his love accepts the challenge that Raghu puts forth.
If one watches the original two movies, for their times when they were made they are a treat to watch. It's 2013 now though and after 100 years of providing the same stale story, the audience cannot be expected to take to the movie. Prabhu Deva seems to have had no motivation to add anything new to the movie – the movie is almost a scene by scene copy of the Telugu version. And while some things do seem enjoyable in a Southern flick, the director seems to have forgotten that the sensibilities of the Bollywood watching crowd are different. The comedy scenes often tend to drag and after a point turn irksome.
Speaking of the actors, it's Girish's debut flick and he gets a role where he can show off all his skills – acting, dancing, fighting, romance etc. It's easy to see that he has an extremely long way to go before he can be counted as a good actor but his character and his mannerisms do make him endearing to watch. Shruti looks pretty but there is very little else she manages to do. The chemistry between the lead pair is missing – if only there was a crackling chemistry it might have salvaged the movie a bit. The other veteran cast Poonam Dillon (Ram's mother), Randhir Kapoor (Ram's father), Vinod Khanna (the station master) and Satish Shah (his uncle) try to make their over the top characters bearable. Sonu Sood is good although the role and characterization do remind you of Arbaaz's character from Pyar Kiya Toh Darna Kya.
The music is decent with 'Jeene Laga Hoon' and 'Jadoo Ki Jhappi' being enjoyable. Overall, the movie offers nothing new for the audience and if you have seen the original then you might as well go back and see that again instead. If you enjoy the typical love story and can digest any romantic movie then go and have a look.