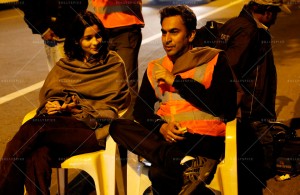 Actress Alia Bhatt is all geared up for the Highway journey, sans premium labels and make-up. Highway is set in six different states and captures the journey of two completely opposite people who are thrown together by fate. Alia had no qualms in donning a contrasting look and readily accepted the transformation, crafted by ace fashion designer Aki Narula.
The designer, who set new trends with the colored kurta in Bunty Aur Babli and got back Nehru caps in Rockstar, has used an interesting approach to design the clothes of the cast. The designer has insistently maintained the margins of realism and reasoning for every outfit used in the film. Many clothes were borrowed from the residents of tiny places like Kalpa and Reckong Peo in Himachal Pradesh, where the film was shot. The actors had absolutely no inhibitions and enthusiastically tried all that was suggested.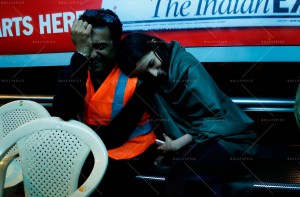 The team picked out the most worn out pieces for the cast to wear. The whole cast and crew travelled as a convoy in 23 cars with only three suitcases for the wardrobe of the entire film. Alia who plays Veera Tripathi, an abducted teenager starts of her Highway journey in track pants and t-shirt and soon settles in for oversized 'borrowed from the boys' clothes. The extension of the wardrobe was a natural progression and the Aki Narula has maintained the authenticity by taking care of the minutest details.
It's often said that it's easier to design for a multi-starrer glamorous big budget then to showcase authenticity and realism. Aki Narula took up the challenge and has done complete justice to his work. The trailer and the songs of the film have been very well received, and the audience can't stop raving about Alia's simplicity and charm.
Highway, produced by Imtiaz Ali's Window Seat Films and presented by Sajid Nadiadwala, will be released worldwide by UTV Motion Pictures.
Highway will release on February 21st, 2014.