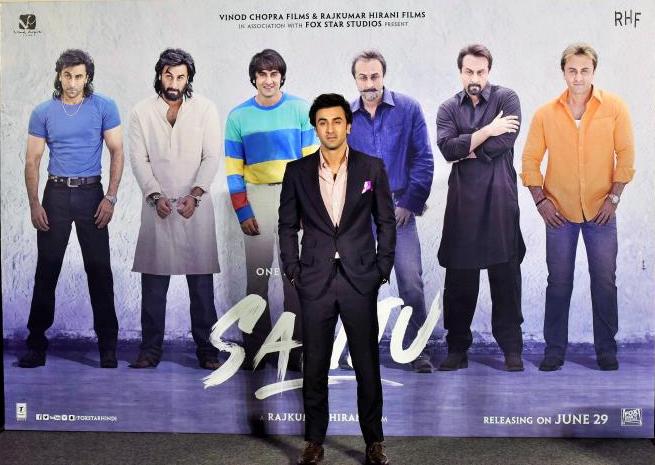 From the first moment Ranbir Kapoor stepped on screen, audiences knew that this actor was one we would be seeing for a long time to come. Since Saawariya, Ranbir has played many different characters and with each one, he has completely immersed himself in the role and has given brilliant performances.
Now, the young actor is taking on one of the most challenging roles of his young career. He is playing Sanjay Dutt in the Rajkumar Hirani directed film titled Sanju. If that was not impressive enough, Ranbir plays Dutt from the age of 20 until today. Plus, this is not just actor Sanjay Dutt; this is a look into the life and the controversies of the real person.
As the synopsis of Sanju explains: Few lives in our times are as dramatic and enigmatic as the saga of Sanjay Dutt. Coming from a family of cinema legends, he himself became a film star, and then saw dizzying heights and darkest depths: adulation of diehard fans, unending battles with various addictions, brushes with the underworld, prison terms, loss of loved ones, and the haunting speculation that he might or might not be a terrorist. Sanju is in turns a hilarious and heartbreaking exploration of one man's battle against his own wild self and the formidable external forces trying to crush him. It depicts the journey of a man through everything that life can throw at him. Some true stories leave you thinking, "did this really happen?" This is one such unbelievable story that happens to be true.
Ranbir Kapoor, in an amazing and special conversation with Stacey, opens up about becoming Sanjay Dutt and living his life for reel.
What was your first thought when they said, 'Okay, Ranbir we want you to play Sanjay Dutt!'?
There was a lot of fear! There was a lot of disbelief. I, myself, didn't have fear in the project of Sanjay Dutt, but I didn't realize that you could make a biopic on an actor who is still so relevant, who is still working in the movies. But once I read the script, I think all my fears and doubts went away because this is a different Sanjay Dutt that you and me know. It was a very human Sanjay Dutt – a person who is very flawed. It is not the larger than life Sanjay Dutt that we all know of.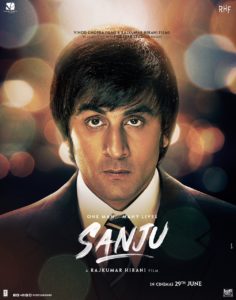 Now is it harder to bring someone to life off the page or to bring someone real to life on-screen?
I think there is a lot of disadvantage and advantage. The advantage being that you already have a prototype that you have to follow. The disadvantage is that, in this case, it was Sanjay Dutt who is so famous. Who is still, as I said, so relevant in peoples' minds and still working in movies – so there will be direct comparisons. So the challenge was there. But, I think, once you believe in the material and yourself and in what you are trying to do – trying to play him with a lot of respect, dignity and honesty – then you don't really bother about these comparisons and expectations. You just hope that when the audience watches it, they see it as a movie and they have empathy.
This is almost like making six mini movies, since it did go through many phases of his life. Would you say that to be true and did you approach it that way?
Yes, I think so! There were six different phases, six different looks and six different controversies. It was like every chapter of his had a new life attached to it. That is always exciting for an actor because you have a bed of emotions and you have so much to do. That really inspires you! It was challenging, but it was a lot of fun doing it.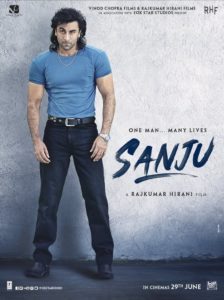 How did approach finding the Sanjay Dutt in you?
It was a lot of work! We took 6-8 months of prep actually. First doing the superficial things of getting his prosthetics, his costumes, his walk, certain nuances, which could remind people of him. But also being very careful that we didn't cross the line of mimicry or making him a caricature – that somebody is trying to imitate him. It really was step-by-step. Brick by brick. You know, it just happened at some point. We still don't know if it really happened until the film releases. People have reacted to the promos and the posters so it is good that people have accepted another actor playing Sanjay Dutt. So once they see the film now they will just experience the story and not really trying to compare me as if I am trying to be Sanjay Dutt or not be Sanjay Dutt.
You really had to lose yourself completely inside him…
Yes! Yes!
That had must have been difficult, but as an actor completely intriguing!
Absolutely! It was quite a dream role for me. You know, you don't get these kinds of parts that often. Attached with the fact that Rajkummar Hirani was directing to it, it really was a dream come true for me as an actor.
What was it like to talk with Sanjay Dutt about his life?
I have known Sanjay Dutt since I was a child; he has been quite close to my family. When I started work on this film and I thought maybe I should hang out a bit with Sanjay Dutt I just found it a little scary because I am playing Sanjay Dutt from the age of 20 until now. He is very different now; he has a very different vibe about himself. I really had to detach myself from that vibe. I had to really create him from the age of 20. So I didn't hang out a lot, but before doing certain scenes, certain moments in the film I used to call him up at night and really ask him what was going on in his head. I just wanted to understand what his vibe was at that particular point.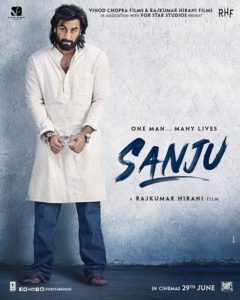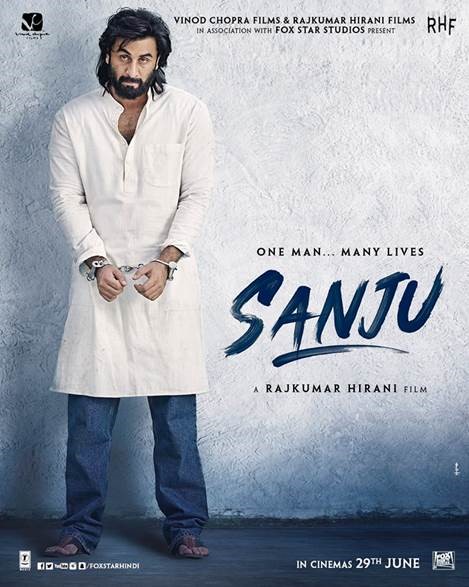 For some of the scenes you had to go pretty dark. How do you get yourself to do that, to get to that point?
I think actors love darkness. Darkness is very easy. But, when you have a director like Rajkumar Hirani he always kinds of brings light into the darkness. So you may be going through the beats of darkness or intensity, but by the end of it, the moral of the scene or what the scene is trying to say are something, which is quite inspirational. Hirani has your back on every dark moment!
So, what was it like working with Mr. Hirani through the whole process of creating Sanju?
It was great. He is really simple. He is somebody who really focuses on storytelling not this psuedo-intelluctual stuff. You know, he is not the most famous director or the most successful director in the industry for no reason! He has this simple philosophy and desire to entertain the audience, give them varying emotions, and really give them a paisa-vasool experience.
Now looking back over shooting this film, what was it like living a bit of Sanjay Dutt's life?
It was great! You know, I kind of discovered a different Sanjay Dutt than this one. A Sanjay Dutt that I didn't know, not you know the larger than life, alpha, macho Sanjay Dutt that we all know. I had only great respect and admiration for him. You know, there were many times, when I was performing this role, I would wonder what he must be going through at this dark moment because he really has a quite controversial life. He has had a lot of ups and downs and he has really fought through it all the times he was down and he has risen. Not only by himself, but with the help of his best friend or his father. That is quite amazing to experience.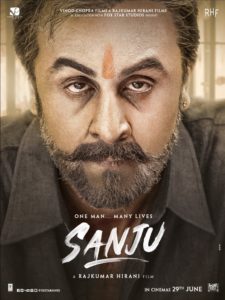 What was it to look into the mirror and see Sanjay Dutt looking back at you?
It was quite surreal. It was quite frightening. It was the first day of shoot. I was in prosthetics and doing this scene and looking at myself looking at the old Sanjay Dutt and behind that was Sanjay Dutt who was actually sitting behind the monitor looking at me.
Oh My God!
I was quite petrified! It was quite frightening and exciting at the same time. But he was really encouraging you know! He is somebody that even if you are doing a bad job, he is someone who will encourage you, support you and give you lots of love. He has been like that through the journey of the film. He has really trusted Hirani, he has really trusted me, and he really let's us be. He has great faith that we would present his life in a really honest way.
As an actor, how do you feel this has helped you grow?
Well, you know, when you finish a film it is not immediately that you understand what you take from the film. I probably will have it in a year or so, or two years or 5 years. Subconsciously it changes you as a person, as an actor. Every film adds some value to your life.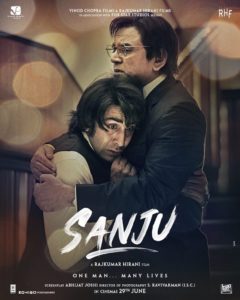 I guess for this film, I really related the father-son dynamic. It is something from which I really drew because I have a similar relation with my father. I am really looking forward to the audiences' reactions to that father-son dynamic.
Your father is played by Paresh Rawal, so how was it to work with him since that is such a central part of the narrative.
It was quite phenomenal. He is quite a legend; he has been acting in films for more than 20-30 years. But he still has a lot of love and passion for acting. He still does a lot of theater in his native language and in the Hindi language. He brought in a lot of dignity into the part. I am really happy he said yes to this role!
Are you nervous before the release of the film?
Absolutely! It is a big film for me! It is coming at a phase in my life were there are a lot of expectations. It being a Rajkumar Hirani film and playing Sanjay Dutt it is a big responsibility. I hope that the audience really takes to it!
Why is it still acting?
I really think I found passion quite early in my life towards the movies. That is all I want to do is make movies and entertain the audience. When you have such opportunities working with such good people playing these different parts it is quite exciting. It is the best job in the world. I am really grateful that I get to do what I love! Not many people get to do that! There is nothing else I would like to do in my life apart from acting.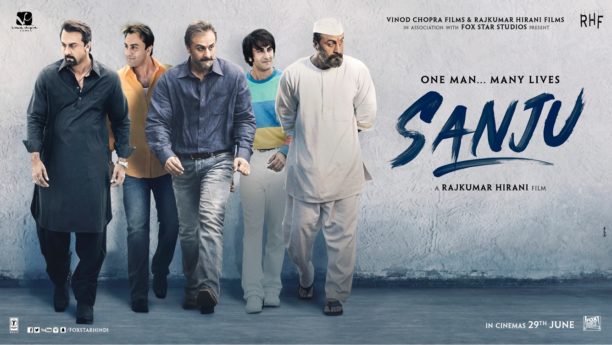 The support of people once they saw that first look, that first teaser and the trailer has been incredible. How does that feel to you?
It feels great! A lot of my films have created this kind of buzz that this film has created, but I do realize that it is on Sanjay Dutt life and as Rajkumar Hirani as a director. I just hope this excitement is converted to love into this film. That is what matters!
What are you working on now?
I have a film called Brahmastra. I am working with one of my closet friends Ayan Mukerji. It stars Amitabh Bachchan, Alia Bhatt and myself. I am extremely excited. It is chartering a completely different genre. It is breaking ground where Indian cinema is concerned. I am terribly excited about this film.
It is always wonderful to talk with Ranbir and I thank him for the amazing answers! I cannot wait to see him in Sanju!
Also starring Paresh Rawal, Manisha Koirala, Anushka Sharma, Sonam Kapoor, Dia Mirza, Vicky Kaushal, Jim Sarbh and Boman Irani, Sanju releases on June 29th!