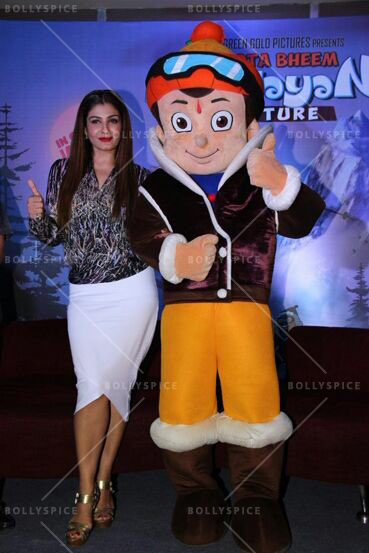 The creators of Chhota Bheem presented the Mighty Mom Award to Bollywood actress Raveena Tandon on Wednesday and the mother of two was humbled and overjoyed to have received the honour.
At the event, Raveena revealed that she and her kids – Ranbir and Rasha are huge Chhota Bheem fans and after receiving the award she watched Chhota Bheem Himalayan Adventure with her entire family.
An elated Raveena said, "My kids are very fond of Chhota Bheem, in fact except for the curtains in his room, my son uses everything that has Chhota Bheem on it. So I'm sure they will be very happy that I have got this Mighty Mom Award."
"Earlier I was not that curious about Chhota Bheem but once I started watching it, my interest grew. Now, I know all the characters by heart and even all the episodes," she further added.
Talking about choosing Raveena as the Mighty Mom of the year and the role of mothers in everyone's life, Rajiv Chilaka, CEO Green Gold Animation, said, "Long time ago when I created Chhota Bheem I had no idea that it would become so big. Today Bheem has a massive fan following and the biggest reason behind it is that mothers are allowing their kids to watch it as without their consent I don't think Bheem would have become so popular. Mothers are important in everyone's life and to honour motherhood we have started this Mighty Mom Award. In today's day and age, it's more of a struggle for a working mom to take care of her family and kids and if you are a celebrity it becomes all the more crazier. Hats off to women like Raveena."
During the event, Raveena posed with the star of the film Chhota Bheem and the shutterbugs just couldn't stop clicking. She and her family thoroughly enjoyed the movie and were heard raving about it.
Produced by Rajiv Chilaka and Samir Jain under their banner Green Gold Pictures, the film has been directed by Rajiv Chilaka and Rusauro B. Adorable and Teja Pratap has written the film's story and screenplay. John Stewart Eduri has composed the music and Kushal Gummadidala has edited the animated adventure comedy.