Reliance Home Video & Games has released David on Home Video. Viewers can now enjoy the film on DVD and VCD.
Produced by Getaway Films and presented by Reliance Entertainment, David has been written and directed by Bejoy Nambiar, and stars Neil Nitin Mukesh, Vikram, Vinay Virmani, Tabu, Isha Sharvani, and Lara Dutta.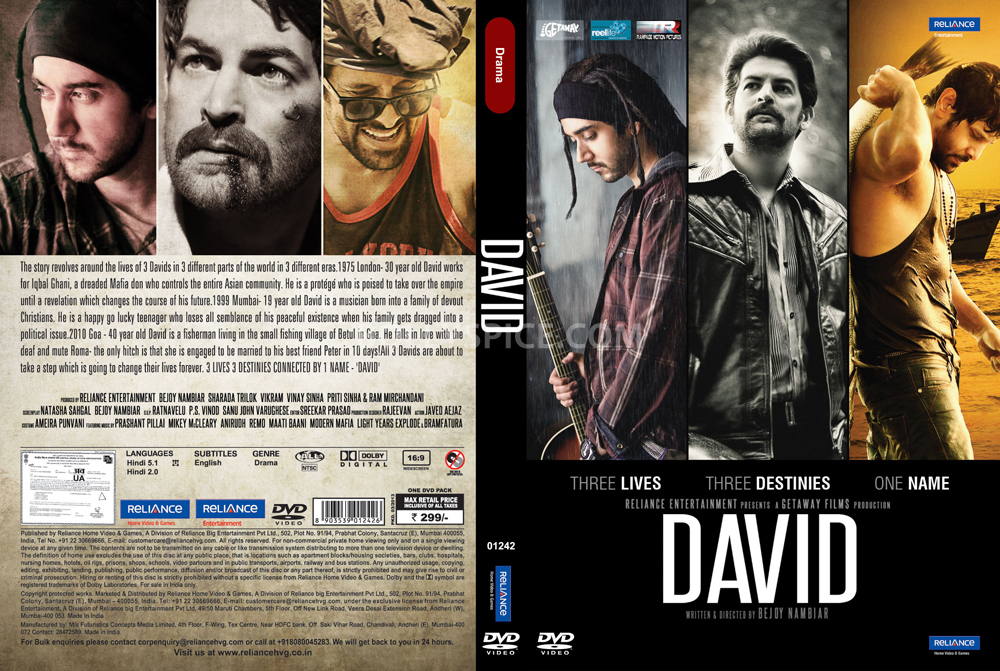 Synopsis:
The story of David revolves around the lives of 3 men, all named David, in 3 different parts of the world, in 3 different eras.
1975 London – 30 year old David works for Iqbal Ghani, a dreaded Mafia don who controls the entire Asian community. David is poised to take over the empire until a revelation which changes the course of his future.
1999 Mumbai- 19 year old musician David is born into a family of devout Christians. He is a happy go lucky teenager who loses all semblance of his peaceful existence when his family gets dragged into a political issue.
2010 Goa – 40 year old David is a fisherman living in the small fishing village of Betul in Goa. He falls in love with the deaf and mute Roma – the only problem is that she is engaged to be married to his best friend Peter in ten days!
All 3 Davids are about to take a step which is going to change their lives forever. 3 LIVES. 3 DESTINIES. CONNECTED BY one NAME – "DAVID".
"David scores high in its technical department. Be it the luminous cinematography or exhilarating sound design or refreshingly different background score, the outcome is top-quality. The DOP comes up with spectacular frames and also captures the intensity that the characters radiate with dexterity." – Taran Adarsh
David is an entertaining film and is now available on DVD (Rs.299) and VCD (Rs.115) across all leading home entertainment stores.