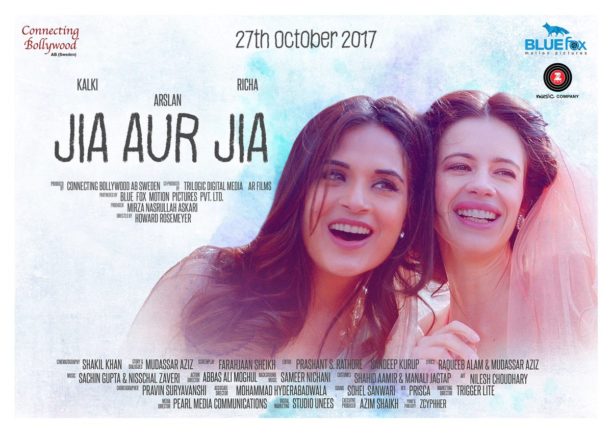 Jia Aur Jia
Starring Richa Chaddha, Kalki Koechlin, Arslan Goni
Directed by Howard Rosemeyer
Why should boys have all the fun? Just the sheer pleasure of watching two of our feistiest actresses in a road movie set in Sweden is enough of a kickback to sail through what is at best a girl-bonding flick with plenty of perk and pizzazz, thanks to the crackling and hissing chemistry between the two lead actresses.
The basic premise is promising. Two very dissimilar girls share the same name and nothing else. Kalki is outgoing, loud, gregarious and bindaas. Richa is quiet, withdrawn and repressed. One wants to live every moment. The other wants her life to end the sooner the better.
Though the aggression between them is overdone, their initial bickering is well scripted and gives away some of what the characters are holding back. The striking visuals help anchor the two protagonists' road journey. Very often the film looks like a pretext for promoting Swedish tourism. But then debutant director Howard Rosemyer has some surprises for the second-half when the narrative sobers down to a treacly trickle of tears.
It's hard to imagine the film working without the Jias. Richa Chaddha and Kalki Koechlin sneak a seductive synergy into the proceedings. They know they are playing 'Sober' and 'Bindaas' and they bring their most cherished acting chops into the picture. You will be thoroughly regaled by the two actresses, specially in the way they reverse gender biases.
Kalki openly lusts after Swedish men on the streets, the way a single Indian male would if he saw firangi women in a foreign town. The two girl sing raunchy songs, swig beer and swing together through ome madcap adventures which don't always make sense.
A third interesting character played by Kashmiri actor Arslan Goni adds a bit more glint to this curiously quaint yet feisty and sexy road film which adds value to its zany touristic good-times-in-distant-lands theme with a sobering message on why life needs to be valued beyond the calamities that are bestowed on us.
Watch out for the sequence in a hospital bed where Kalki talks about her future and why she can't have it.
See the film for the Kalki-Richa jugal-bonding and yes for the way the film uses the evergreen Shankar-Jiakishan/Lata Mangeshkar/Mohd Rafi song Jiya oh jiya kuch bol do to reiterate life's most valuable lessons.