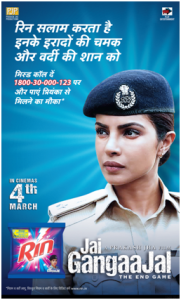 The evening on International Women's Day saw #JaiGangaajalRINanthem trending on 2nd position in India.
Prakash Jha's directorial 'Jai Gangaajal' starring Priyanka Chopra released on 4th Of March, 2016. The Film makes a strong statement on women empowerment among other social issues.
Actor Priyanaka Chopra shines as a police office in the film who fights the system to re-inforce law and order in the society. Priyanka Chopra as S.P Abha Mathur is seen as a righteous police officer who does not compromise on her duty and single handedly takes on strong antagonists of the Film.
Hindustan Unilever's RIN believes that the shine in you is the shine on you.
RIN collaborated with the Film to create a powerful music video featuring Priyanka Chopra as S.P Abha Mathur which celebrates the shine in every woman. The JaiGangajal RIN Anthem written by RIN's creative agency empowers you to bring on the shine in you. This magic of 'RIN Anthem" was recreated by composer Salim Sulaiman and the powerful voice of Sunidhi Chauhan.
Priyanka Chopra tweeted the Jai Gangaajal RIN Anthem from her twitter account along with her wishes to the women everywhere on the evening on International Women's Day.
Soon, the Jai Gangaajal Rin Anthem became a hit among the twitteraties which started trending on the second number in India on woman's day.
"The anthem resonated the essence of the film and became a perfect fit for the film. Both me and the music directors- Salim-Sulaiman loved to work on it and are very proud to have this association."