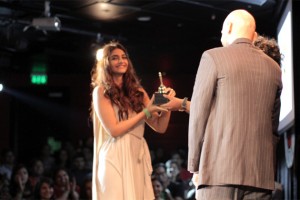 If industry trade statistics are to be believed, for every single good film that is made, there are 10 other bad ones that release week after week. For anyone familiar with the Razzies concept of Hollywood, the 'Ghanta Awards' ('ghanta' being the slang for 'rubbish') is its desi version to celebrate and recognize the worst that Bollywood offers in terms of films, actors, technicians among some other categories.
In its second year, the awards function was held over the weekend to a packed house. Those who could not attend had the option of watching its online live stream (something that none of the bigger awards have been able to achieve yet). While invites were sent out to all the nominees, Sonam Kapoor was the lone celeb attendee, went sportingly on the stage to collect her award confessing "Thank you so much! I finally won an award!".
Keeping Sonam company in the audience was photographer Atul Kasbekar, while Anurag Kashyap tweeted his dismay at not being able to attend the function, "I am still at the bengaluru airport.. which was shut down all day.. missed the GHANTAS.. who won.."
Audiences were thoroughly entertained by hosts, stand-up comedians Varun Thakur, G. Khamba, Varun Grover, Aditi Mittal, Karan Talwar, supported by theatre/film actor Alekh Sangal whose impressions of popular actors were greeted with applause and cheers.
The nominees were decided by a jury panel and winners were chosen via an online poll open to everyone.
And the nominees and winner were
Worst Film
1. Ra.One
2. Bodyguard
3. Ready
4. Mausam
5. Don 2
Worst Holier-Than-Thou Movie
1. Dhobi Ghat
2. No One Killed Jessica
3. That Girl in Yellow Boots
4. Memories in March
5. Shaitan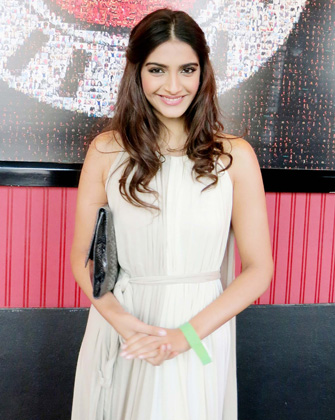 Worst Actor
1. Salman Khan – Bodyguard, Ready
2. Shah Rukh Khan – Ra.One, Don 2
3. Ajay Devgn – Rascals, Singham, Dil Toh Baccha Hai Ji
4. Sanjay Dutt – Ra.One, Rascals, Chatur Singh 2 Star, Double Dhamaal, Desi Boyz
5. Vinay Pathak – Utt Patang, Tere Mere Phere, Chalo Dilli, Bheja Fry 2
Worst Actress
1. Kangna Ranaut – Game, Miley Na Miley Hum, Double Dhamaal, Tanu Weds Manu, Ready, Rascals
2. Nargis Fakhri – Rockstar
3. Jacqueline Fernandez – Murder 2
4. Gul Panag – Turning 30
5. Bipasha Basu – Dum Maaro Dum
Worst Supporting Actor
1. Tusshar Kapoor – The Dirty Picture, Hum Tum Shabana, Shor in the City
2. Prateik Babbar – Dhobi Ghat, Aarakshan, Dum Maaro Dum, My Friend Pinto
3. Anupam Kher – Every other film
4. Om Puri – Don 2, Khap, Teen Thay Bhai, Bin Bulaye Baarati
5. Shreyas Talpade – Hum Tum Shabana, Teen Thay Bhai
Worst Supporting Actress
1. Hazel Keech in Bodyguard
2. Giselli Monteiro in Always Kabhi Kabhie
3. Mallika Sherawat in Double Dhamaal
4. Charmy Kaur in Bbuddah Hoga Tera Baap
5. Raveena Tandon in Bbuddah Hoga Tera Baap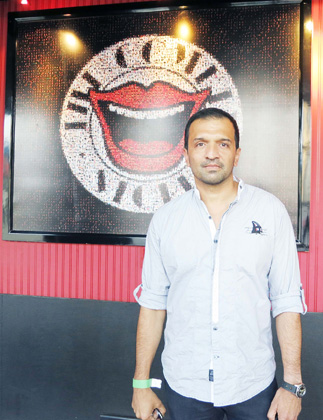 Worst Breakthrough
1. Chirag Paswan
2. Rana Daggubati
3. Zoa Morani
4. Sarah Jane-Dias
5. Nargis Fakhri
Worst Director
1. Anubhav Sinha – Ra.One
2. Anees Bazmee – Thank You, Ready
3. Pankaj Kapur – Mausam
4. David Dhawan – Rascals
5. Rohit Dhawan – Desi Boyz
Worst Rip-Off
1. Don 2 – every Hollywood action film
2. Murder 2 – The Chaser
3. Desi Boyz – Full Monty + all Adam Sandler films
4. FALTU – Accepted
5. Ragini MMS – Paranormal Activity
Worst Couple
1. Kangna Ranaut and Ajay Devgn in Rascals
2. Kangna Ranaut and Sanjay Dutt in Rascals
3. Kangna Ranaut and Chirag Paswan in Miley Naa Miley Hum
4. Ranbir Kapoor and Nargis Fakhri in Rockstar
5. Shahid Kapur and Sonam Kapoor in Mausam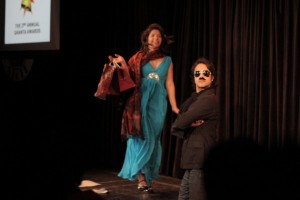 Worst Song
1. Dhinka Chika
2. Jalebi Bai
3. Bodyguard title track
4. Dum Maaro Dum
5. Chammak Challo
WTF Was That
1. Akshay Kumar going to Oxford University in Desi Boyz
2. Ghost Rape in Haunted 3D
3. The unexplained science behind the science fiction part of Ra.One
4. Colourful holi song in the middle of a movie about Hitler & the holocaust in 'Gandhi to Hitler'
5. How Sonam Kapoor & Shahid Kapoor don't manage to exchange a measly phone number over 10 years in Mausam
Thats Anything But Sexy
1. 3 girls conned by Ranveer Singh's looks and acting abilities
2. Ram Gopal Verma's camera angles in Not A Love Story
3. Anything involving Kangana Ranaut in Rascals
4. Akshay Kumar as London's most in-demand male escort in Desi Boyz
5. Any time Shahrukh Khan says "Junglee Billi" in Don 2
For anyone who missed the event, the organizers are in the process of facilitating online viewing, watch this space for updates.