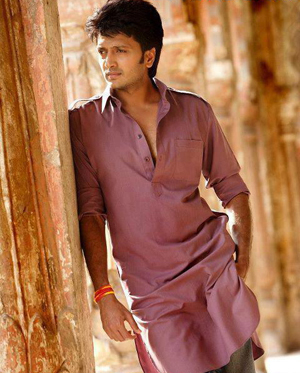 Mr. Cute Riteish has been the favorite of many for his amazing comic timing and his great performances. In fact, his last week's release with his wifey Genelia, Tere Naal Love Ho Gaya has been garnering some good reviews and good box office too. What is the best thing is that we are seeing Riteish in a romantic frame after a very long time and we finally know now they have it off screen it certainly looks like that love translates on screen really well.  So much so that Kumar Taurani has planned a success party for TNLHG this Friday. He not only juggled movie promotions and of course his big bang wedding last month, and still as cute as ever Riteish Deshmukh does look every bit happy and contented. In a conversation with BollySpice…
How did Tere Naal Love Ho Gaya come your way?
The producer Mr. Kumar Taurani called me up one day to his office and said that he wanted to meet me. Earlier we had tried to work together but it didn't work out and then he met me and said that he wanted to do a romantic movie with me. Tips has a reputation of making good films and marketing them very well and as a story, I really liked Tere Naal Love Ho Gaya. That was the right film I wanted to do with them and it happened.
We had a chat with Genelia and she asked us to ask you what is that one thing about her that you like.
You mean one out of the many? (laughs naughtily) I think…her smile. More than that, her energy. We started our career together and we were like two people wondering about the sets, what the trolleys do, how cameras work, how does one react to sound…Our entire first experience was about getting to know the surrounding…what is a setting dada, what is a costume dada, what is continuity…learning not only about acting but also the entire process of a film. People ask me how it was working with her earlier and how is it working with her now…and it's a different person. You realize suddenly that you are working with a competent actor. Knowing a person inside out doesn't mean that when I am doing a scene I would anticipate how she would react in it. In real life I would know how she would react if it happened off screen. But in front of the camera, she would react differently and I would be like, "Where did that come from!" And I think that keeps you going as an actor. She always keeps me on my toes. Every time I might think I will do better than her but at the end of the day she kicks my ass!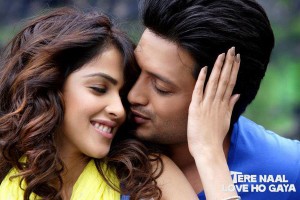 She told us that you never popped the question.
(smiles) Uhh…What question? You mean 'The' question. Why would I? It's an arranged marriage, right!
Did you not get a bit apprehensive before taking the 'big leap'? Often people think it's a one way ticket to lose your freedom.
I think when you are seeing each other for so long the question of freedom doesn't arise too much. We both have been very private in the way we handled our relationship. Like I always say, people who have spoken about their relationship in public and have given dignity to their relationship in their own way –hats off to them. We tried to give dignity to our relationship in the privacy that we maintained. That's the way we thought best for our relationship. And today we have that comfort level that we are taking it to the next level – a commitment of a lifetime. I think this is exciting. I don't think there is any fear as such, like "Oh my God my freedom is gone."  I am a bird who likes to be on one tree (laughs) I don't want to jump around many trees. So I am happy.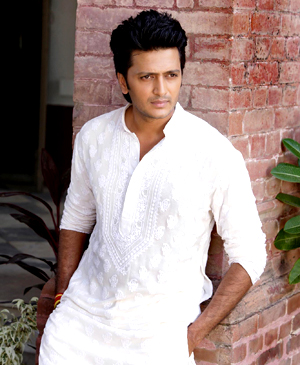 Do you think Genelia is a better actor than you?
Yes I do! You know, pehli film main hum dono ne kaam kiya (In the first film, we both worked together). If you come back after working with so many people you think that when the scene comes you will know the reactions. But then she breezes in and creates awe. That's one of the things I like about her. I personally feel that she is a better actor than me.
Do you compare each other's performances? Do you give each other suggestions with respect to acting nuances?
First of all I truly believe, which I have learnt from my co-actors like from Amitji to Ajay to Akshay to Sanju (with whom I have worked with in more than 3 films) is that I am way junior to them but at no point did anyone ever tell me what to do. It's all about being a co-actor, a good co-actor; never to cross the line. You can suggest something but never impose yourself. So while shooting this film just because we know each other and are going around doesn't mean that as actors we interfere.
Was it easier to effuse chemistry on screen considering that two were dating?
Says who? It is actually difficult. An actor friend of mine had told me about the issue he had of real life couple coming on screen together. Some people thought that the chemistry was fake and the reason he said they analyzed later was – and I felt that too – as a couple, you tend to say a lot of stuff with just a single look since that person really understands you. But here, you are trying to convey to a third person and it is important for that person to understand what you are conveying. So never get into that zone ki maine bol diya toh woh samjh gayi ishare main. Woh ishara audience ki taraf hona chahiye, usse samajhna chahiye ki aap kya bolna chahate ho (That it should be that if I hint at something it should be the audience that understands what I am trying to say, not just her getting the hint.). With someone you know, you know how that person would feel and react. With someone new, he or she can take it personally, apart from the character. I think that much of leeragey you get when you are working with someone you know.
Thanks for talking to BollySpice.
Thank you.