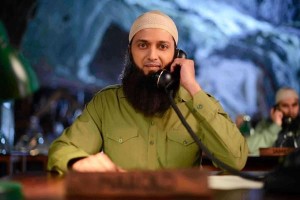 Ahead of its release in a few weeks, Riteish Deshmukh has provided an inside look into his next film Bangistan, a satire comedy about fundamentalism.
"Bangistan is basically a comedy satire about two terrorists that are on a mission to save the world. They are brainwashed by local religious rag-tags and sent on a mission to disrupt the world peace conference taking place in Krakow, Poland. On this journey they realize the futility of religious divide, and come out as heroes," said Riteish.
And the name Bangistan? It refers to the fictitious country in which the film takes place. "…but the topic and issues are real," Riteish noted. "It has a strong underlying message highlighting the futility of violence, religious divisions [and] cultural prejudice."
With mega hits like Heyy Babyy and Housefull, it's fair to say Riteish has perfected his comedic craft. "I think that if you rehearse your comedy too much, then your performance will appear robotic and over practiced. So I think it's better to just go with the flow and see how the situation is and act accordingly," he said.
Bangistan is directed by Karan Anshuman and also stars Pulkit Samrat and Chandan Roy Sanyal.  While originally slated for a July 31 release, it has now been pushed to August 7. According to Riteish, "If you want to have some laugh at loud moments that at the same time make you think about the anarchy in the world then Bangistan is for you!"