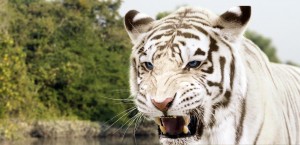 Producer Abis Rizvi and director Kamal Sadanah's film Roar: Tigers Of The Sundarbans was always meant to be different. Whether it was the unique subject matter, its star cast and even the cutting edge visual aspects of the film, it was created to break boundaries in Bollywood. And audiences have welcomed this change with open arms. Parents and kids alike thronged to cinemas over the weekend to get a taste of the amazing VFX and action that Roar had to offer.
Here is a film breaking stereotypical molds and doing it with utmost sincerity and it is this unusual approach that has made this film popular among the people. From a gripping storyline to some breathtaking scenes of the Sundarbans, the film can transport audiences to a land frozen in time; and this sentiment continues to draw the crowd.
Says producer Abis Rizvi, "The response has been absolutely overwhelming, Roar has been accepted so well and the trend will only go upwards from here." Usually, once the end credits star rolling, the audience quickly leaves the theatre. For Roar, the makers integrated the tiger's journey from being filmed in a studio to the actual end product which quickly captured the curiosity of those who watched the film. "We wanted to showcase this amazing journey to everyone and wanted to give them a glimpse of how this film came together, and I have been told that everyone who watched the film stayed till the end specially for this aspect. I think this is a great achievement for team Roar", adds director Kamal Sadanah.
Roar: Tigers Of The Sundarbans produced by Abis Rizvi and directed by Kamal Sadanah is currently playing at theatres.