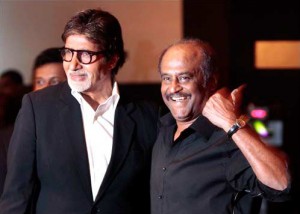 No matter who you are or what your preference in film genre is, there are some names that command a respect like very few others. Superstar Rajnikanth is one such name and it is only natural that the people who work with him show that respect in their approach. Amitabh Bachchan has often referred to Rajnikanth with a "ji" at the end, even though the two are quite close friends. In the case of Deepika Padukone, who plays the leading lady in Soundarya Rajnikanth's Kochaidaiyaan opposite Rajnikanth, her respect extends to calling the Superstar 'Appa', which translates to Father in Tamil.
A man that is older by age and experience, Deepika will be romancing the Superstar as his lady love in the forthcoming flick that is the first of its kind in Indian Cinema. While some may find this odd, if we take a look back at press meets for Rajnikanth's last film Enthiran/Robot, we will find Aishwarya Rai Bachchan, who too was the leading lady of the film, referring to the Superstar as "Uncle". So when the Desi Boyz actress has not only enjoyed her time working with the industry great but also got along fabulously with his daughter and director Soundarya R. Ashwin, the appreciation was made known and even found its way to the two ladies' respective twitter accounts with love extended to Rajnikanth and his wife Latha, whom Deepika referred to as Amma.
You guessed it, Amma means mother.