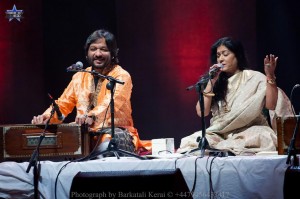 Renowned Indian singers Roop Kumar Rathod and his wife Sunali Rathod rocked the stage at the Logan Hall in London on Saturday evening as part of their UK tour 'Tujh Mein Rab Dikhta Hai'. Organised by Rock on Music, the duo sang an array of songs to entertain their fans in what appeared to be a packed hall. From Bollywood songs, to classical Indian music, as well as tribute songs; Roop and Sunali did it all during a set lasting around three hours. The tour was also taken to the De Montfort Hall in Leicester on Sunday night, which also had a strong turnout. In addition, the duo were humbled to see legendary music composer Anandji (one half of famous composers Kalyanji-Anandji) attending the concert as guest of honour.
The concert kicked off with the melodious 'Tere Liye' from Veer-Zaara, which received a wonderful response from the audience, which is of no surprise given the classic status of this romantic number. Following this, Sunali jazzed up the stage with her rendition of 'Aao Huzoor' with credit also going to the band for delivering top notch music for this particular song. Next, Roop offered a little Sufi magic by singing the enchanting 'Khwaja Mere Khawaja' from Jodhaa Akbar. Roop also sung 'Laaga Chunari Mein Daag', which had some excellent tabla playing from the musician Janab Ahmed and got a huge round of applause from the audience.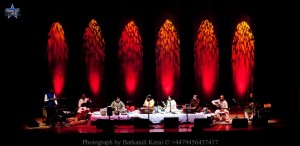 Other songs which were sung during the first half of the concert included 'Aap Ki Nazron Mein Samjha', 'Jo Waada Kiya Woh Nibhana Padega', and 'Sau Saal Pehle'. Before the concert was brought to an intermission, Roop led the songs 'Sandese Aate Hain', from war drama Border and of course the unforgettable 'Tujh Mein Rab Dikhta Hai' from Rab Ne Bana Di Jodi. Roop dedicated the latter song to anyone who is getting married or who is planning to get married due to the romantic theme of the song. It was a truly amazing performance with Roop getting the notes just right and I found it to be one of the big highlights of the night!
Before the second half began, chief guest of honour Anandji came on to the stage and made a short speech praising Roop and Sunali and also spared a few seconds to sing the classic 'O Saathi Re' along with the duo. Following this, the second half kicked off with the classic number 'Chup Gaye Saare Nazare' from Do Raaste and their rendition of this song added to the memories which many fans will have of the night. Sunali also sung a soothing version of 'Lag Jaa Gale', with Roop rendering the melancholic song 'Kasme Vaade' as a tribute to Anandji. Roop also sung the memorable 'Maula Mere Maula' from Anwar, as well as 'Le Chale Doliyon' from Filhaal, the latter having been requested by many fans during the concert.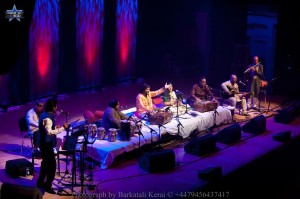 Overall, I found that during the cold month of November, Roop Kumar Rathod and Sunali Rathod really helped to warm us all up with some relaxing numbers, as well as a whole bunch of well sung tribute songs. I also really loved the band that accompanied the duo, in particular the tabla player Janab Ahmed, as well as the saxophone player who really helped to liven up the night with some great musical executions. Though the concert did not contain much typical commercial music, nevertheless, I appreciated the fact that this was a nice alternative concert which had a number of unconventional styles thrown in to entertain us all. Thank you to both Roop and Sunali for a fun-filled night on a cold London evening!
A Special Mention about Rock on Music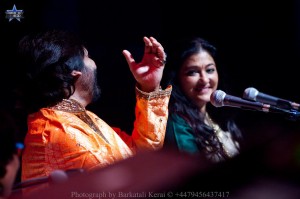 Roop Kumar Rathod and Sunali Rathod's UK tour was Rock on Music's last production for 2014 after having delivered sell-out shows for major Bollywood musicians. These include Shreya Ghoshal, Arijit Singh, Harshdeep Kaur, Pankaj Udhas and Salim-Sulaiman. In particular, Arijit Singh's UK debut tour back in August got a phenomenal response from fans; with both his shows in London and Leicester becoming sell-outs. It was definitely one of the big highlights for me and huge credit goes to Rock on Music for making Arijit's debut tour an unforgettable experience.
BollySpice would like to thank Rock on Music for their support! Fear not, Rock on Music will be back next year with even more MASSIVE shows and surprises for you all! So brace yourselves for more Bollywood, magic, music and entertainment!