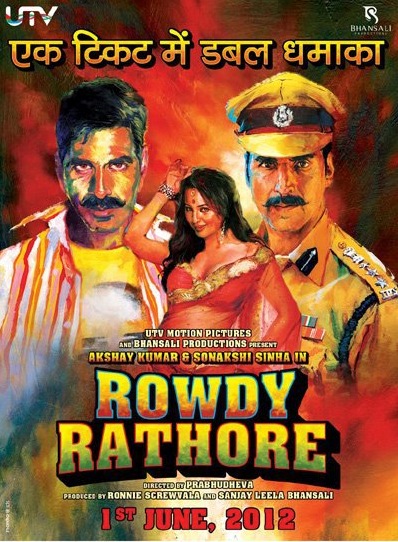 Having watched Vikramarkudu a couple of years back and thoroughly enjoyed it, I was a bit skeptical regarding its Hindi remake. For me, Vikram Rathod could only be Ravi Teja (the role seemed tailor made for him) and I prayed that Akshay would do justice to the characters. My only hope was Prabhu Deva, who has quite an experience with remakes, be it Telugu to Tamil, Tamil to Hindi, Hindi to Telugu…
Yes, Rowdy Rathore is your typical no brainer, 'masala' (the second most abused term after 'rom-com') flick aimed at the masses. Shiva (Akshay Kumar) is a street smart crook who makes his living by stealing. Until he meets Paro (Sonakshi Sinha) and falls in love with her. Having promised to give up his old ways, Shiva suddenly becomes the target of weird happenings as a little girl insists he is her father, a cop keeps a constant watch on him, a stranger keeps on calling him brother and goons become thirsty for his life. That is until he meets Vikram Rathore (Akshay again), a cop with a past. How Shiva gets entangled in Vikram's affairs and finds himself seeking revenge forms the rest of the story.
Like any mass film, this one aims at pure entertainment at any cost and manages to succeed in quite a many parts.
My grouse though is with Prabhu Deva, who unfortunately disappoints in his adaption of the original to the sensibilities of the Hindi audience. Prabhu Deva has a distinct style of his own which is evident in not only the way he molds the scenes but the songs as well. Prabhu borrows heavily from the original flick as also from some of his own earlier movies (take for example the 'mind-rewind' scene from his movie Nuvvostanante Nenoddantana). Nothing wrong with that except that the end product seems a tad been there-seen that. After flicks like Dabangg, Singham, Bodyguard, the action sequences in Rowdy Rathore seem like an old fare-violent yes, but old. Sure, the screenplay by Shiraz Ahmed is to blame too but a man who himself started the trend of action-masala-south remakes in Bollywood through Wanted seems to fall short of the expectations laid by his previous movie. A navel baring heroine, very caricaturish villains, village rapes and the likes – the very 90s defining points – make up this movie. If only the story had been adapted better!
That's not to say that this movie is without its moments. The first half is fun, but then dreaded curse of the second half strikes again as you end up dragging yourself through a very long movie. Akshay Kumar gives an entertaining performance as both Rowdy and Rathore and it's his comical acts with those dialogues which are a delight to watch. The only marring point is that the two characters don't have much disparity and his performance would have been more fun if the characters were contrasts. Sonakshi is good in whatever screen time she has though pretty much of it is focused on her midriff. The side characters are decent although we have to deal with the loud typical villains again as poor Nasser has to portray a very laughable character. Where are the Mogambos and the Gabbar Singhs who had more to do than just provide laughs at their expense? The songs are in sync with the mood of the movie, comic and mass style, although quite a few could be done away with. In fact apart from 'Aa Re Pritam Pyaare' and 'Chinta Ta Ta Chita Chita', none stay with you. And I may be being too picky here but doesn't Kareena's special appearance seem dull and boring in front of the shy-sweet cameo of Ilaya Thalapathy Vijay?
What could have been a whistle-blowing fun ride ends up being a half-baked dish. If you are a Prabhu Deva fan, you will be disappointed. If you are an Akshay fan, you might just end up cheering the loudest for him. Watch this if you are in a mood for some mindless, time pass entertainment this weekend.