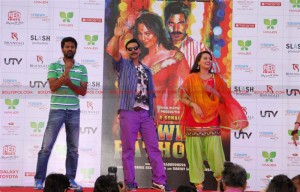 Rowdy Rathore stars Akshay Kumar and Sonakshi Sinha attended the 'Keep Your City Clean & Green' initiative by Hanjer Biotech Energies ('Hanjer') to make citizens aware of disposing off waste responsibly for a cleaner & greener city just prior to World Environment Day (June 5). As a curtain raiser to the Trash Bash campaigns planned across India, Hanjer (a unique player and innovator in the Municipal Solid Waste (MSW) management business) distributed free T-shirts, badges and DVD copies of its innovative and unique online educative game 'Trash Buster' at an event held in Crown Interiorz Mall, Faridabad.
Imran Furniturewala, Director, Hanjer Biotech Energies, said, "We, at Hanjer, are very happy that Rowdy Rathore stars Akshay Kumar & Sonakshi Sinha have expressed their support for our 'Keep Your City Clean and Green' campaign just ahead of World Environment Day. Hanjer's 'Trash Buster' urges players to throw all types of waste in a single bin in the first level and as the game progresses it demonstrates how to segregate the waste into different categories of bins, achieving the goal of source segregation for better recycling."
To play the free online educative game, web surfers go to the Hanjer website (www.hanjer.com) or log on to www.facebook.com/hanjerhere on Facebook, and follow 'Hanjer Girl' – the smart young mnemonic for Hanjer's Green initiatives such as Trash Bash, and click on Trash Buster. They can also get useful tips from the attractive 'Hanjer Girl' on how to make the world greener. 'Trash Buster' helps players understand how Hanjer's unique waste processing, recycling and resource recovery model helps cities manage their waste more efficiently and reduce land dumping. It explains how waste can be transformed into energy, compost and other green and recyclable products.
"Given the fast paced growth of India's urban population, combined with a crying shortage of space, the need to manage waste effectively and reduce environmental impact, is the need of the hour! Waste generation starts from every household/commercial unit in the city, making it necessary to educate every individual on how to manage waste efficiently. 'Trash Bash' is Hanjer's humble effort to effect a  much needed change in the way people  perceive waste and project it  as a positive resource, which can yield precious value," Furniturewala added.
Hanjer's objective is to awaken the conscience within every citizen and make each one believe that change starts with a single person- you. These simple efforts from citizens can help keep the city cleaner and greener providing for a better quality of life was their message to the audience.