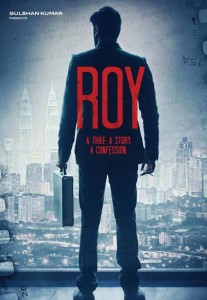 Roy is a romantic thriller starring Arjun Rampal (D-Day, Ra One and Rajneeti), Ranbir Kapoor (Rockstar and Barfi) and Jacqueline Fernandez (Kick and Race 2) in pivotal roles. It marks the debut of director Vikramrjit Singh and is being produced by T-Series and Freeway Pictures.
It features music by an impressive list of up and coming composers, being Ankit Tiwari (Aashiqui 2), Meet Bros Anjjan (Kick) and Amaal Malik ('Naina' – Khoobsurat) with Kumaar, Abhendra Kumar Upadhday and Sandeep Nath as lyricists. Playback singers featured include Arjit Singh ('Tum Hi Ho' – Aashiqui 2), Aditi Singh Sharma (Title Track – Dhoom 3), K.K  ('Tune Maari Entriyaan' – Gunday) and Ankit Tiwari ('Galliyan' – Ek Villain).
The album commences with Sooraj Dooba Hai, a lively techno dance number with a carefree attitude that is trendy and endearing. Arjit delivers the track with his signature charm aptly supported by Aditi Singh Sharma. The alternative version prominently features Aditi over Arjit but also has a stronger fusion of both Arjit and Aditi that is a refreshing change from the former. Both tracks are equally good. After a lackluster outing in Jai Ho, Amaal Malik impressed with 'Naina' (Khoobsurat) and has smoothly changed gears for 'Sooraj Dooba Hai'. The ex-background scorer is definitely a name to look out for in 2015.
Tu Hai Ke Nahi is a typical Ankit Tiwari number. It is well arranged and equally well rendered by Ankit's signature lazy brooding vocals. However, it is quite unexciting in comparison with his previous tracks. The pace is slow but lacks a definite melody to latch on to and therefore the track gets tiresome after a while. Abhendra Kumar Upadhay's are also strictly effective with no outstanding prose to write home about. Things take a turn for the worse when the track is repeated by Tulsi Kumar who continues to forcefully inject herself onto the music scene via her convenient lineage to miserable results.
Chittiyan Kalaiyaan is peppy composition from Meet Bros Anjjan with the recently-popular Kanika Kapoor behind the mike. Kumaar's girl-y lyrics are commendable if not a little old fashioned. Kanika's sharp vocals are a lot easier on the ears than 'Kamlee'/'Lovely' and 'Baby Doll', however it is her third consecutive track featuring that cute Punjabi-English gig she is so good at and it is bordering on tiring. On a more critical note, Jacqueline's character sounds nothing like Kanika and while the actress does a fantastic job a lip-syncing it, the ladies vastly different accents make for a cringingly obvious faux pas. Other than that, the track is infectiously catchy and is bound to be crowd pleaser.
Boond Boond fares much better than Ankit's predecessor, 'Tu Hai Ki Nahi'. The musical arrangements are particularly outstanding with a lovely harmonium interlude in the first half, a beautiful guitars interlude in the second and a subtle touch of violins just before the end. An otherwise contemporary track, it features a slight desi-classical flare which makes it stand out. Abhendra's lyrics are poignant and tastefully sensual. Ankit encapsulates the mood aptly and delivers a more engaging rendition this time round.
Ankit hands the reigns over to KK for Yaara Ke who cruises through the number being the seasoned performer that he is. His familiar vocals make the track instantly likeable and gives the the otherwise ordinary number something to shine about.
Roy is definitely an above average outing with a good bag of tracks from Meet Bros Anjjan, Ankit Tiwari and Amaal Malik. It also crystallizes the growing trend of multi-composer soundtracks over single ones. While the commercial arguments are unknown, it is certainly a great means of delivering a decent range of tracks. Roy has some hummable and catchy tunes and will undoubtedly feature well on early 2015 playlists.