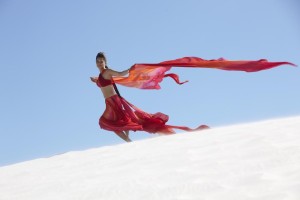 Actress Ruhi Singh, who will be next seen romancing newbie Krishna Chaturvedi in upcoming rom-adventure 'Ishq Forever', had quite a tough time shooting for the film due to extreme weather conditions and Ruhi recently shared an amusing anecdote about one of her experiences while shooting a song.
The former beauty queen said with a chuckle, "I remember we were shooting for this song 'mere ankhon se nikle aansoo' and I actually had tears in my eyes while shooting this track. Not because it was an emotional moment, but because we were shooting in a place that was hit by a sandstorm and the sand kept hurting our eyes. However, despite this, we were required to give the necessary expressions without blinking and this made us quite teary-eyed!"
'Ishq Forever' has been directed by Sameer Sippy and produced by Ajay Shah, Harry Gandhi and Shabeer Boxwala under their banner Friday Cine Entertainment. The film is slated to release on February 19.
Watch the song here – http://www.youtube.com/watch?v=UKOPokTQ50A