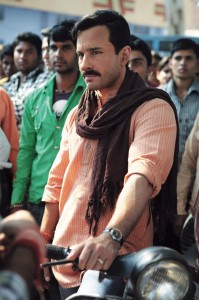 Amidst the buzz of Deepika and Saif's super bonding on the sets of Prakash Jha's next film Aarakshan in Bhopal, Saif turned out loyal to his four-year-old relationship with Bebo beyond our expectations.
Saif Ali Khan, the nawab, will be seen playing a dalit's role in Prakash Jha's upcoming film Aarakshan. It is obvious that immense care had to be taken to make him look convincing. However, Saif went a step ahead of the cast and crew to make sure he looked like his character. He would BBM Kareena his pictures before every scene and only after his lady luck gave a green signal, would he proceed with that look and shoot. Looks like the saying turns around for the lovebirds, so far and yet so close!
Another story that we hear completely goes against the troubling rumors about Saif and Bebo. We hear that Saif Ali Khan always did the make-up for his tattoo that reads Kareena's name himself during Aarakshan's shoot. Right from covering up the tattoo to the touch-up, Saif wouldn't have anyone else touch Kareena's name. Now that's what we call possessiveness! Aarakshan sure helped Saif Ali Khan and Kareena Kapoor reserve their love. We are waiting to see Saif's all new Dalit look that he and Kareena bonded so much over.
Director Prakash Jha's latest film Aarakshan, a powerful look at the state of the controversial educational system in India, stars Amitabh Bachchan, Saif Ali Khan, and Deepika Padukone and opens in theaters worldwide on August 12.