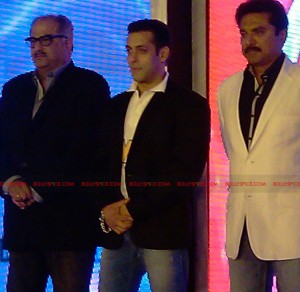 Probably the hottest Khan in BTown right now, Salman Khan has always been the audience's and media's favorite poster boy. And this was event from the frenzy which surrounded him at the recent launch of Cricket Celebrity League at Trident. Along with Sallu, Mumbai Heroes team members Sunil Shetty and Sohail Khan were also present. Also present were Tamil superstar Sarath Kumar and Telugu actor Vishnu Manchu (who owns the Telugu team franchise). Boney Kapoor and Priyadarshan who recently bought the West Bengal and the Kerala teams respectively were also present.
Both Boney and Priyan Sir refused to comment on their team lining as the talks were still in their early stages. In response to a reporter's question regarding his team's cheerleaders, Boney jokingly replied," Pehle team ka dekh loon phir cheerleaders ka sochunga! (Let me see about the team first and then I will decide about the cheerleaders!) I do promise however that they will be better than the ones you saw in the last season!" In response to a question as to which role he would be playing in the team, Priyadarshan replied," Definitely not as a director. My role will be that of a franchise owner's husband! (his wife has bought the Kerala franchise)." Salman who has lent his famous Dabangg dialogue "Hum par yeh ehsaan karna, ki hum par koi ehsaan mat karna" to the Mumbai team said that he indeed wanted to be a part of Mumbai Heroes but it was up to Sohail to decide on whether to include him or not. "I provide entertainment. I can bat, bowl and field. I should be taken," he said in his usual tongue-and-cheek manner. Last year the team had ended last in the series and Salman said that it was because the team took it as fun and not as a serious game like the Southern counterparts. So this time, they had well placed strategies to see that they don't end up losing this time as well.
Both Vishnu Manchu and Sarath Kumar were happy that this was a great opportunity to bring together film artists from different industries. The CCL's new season will feature two additional teams, Bengal Tigers and Superstars Kerala. The matches will be played in Bangalore, Chennai, Vishakhapatnam and Hyderabad from January 27 to February 19, 2012. And with so many stars coming together for a battle that will not take place at the box –office, it is indeed a shame that the matches won't be happening in aamchi Mumbai.
Check out exclusive pictures from the launch!