If you have seen Tiger Zinda Hai's beautiful love song, 'Dil Diyan Gallan' one of the most striking images is the portrait of Zoya aka Katrina Kaif on the snow. We have just learned that Salman Khan himself painted the picture on the ice. Call us wowed!
Filmed in a remote Austrian mountainside, the shoot had its challenges. Director Ali Abbas Zafar says, "Salman and Katrina shot this song on some very difficult terrain in the Alps"
Adding, "The biggest highlight in this song is the unique Katrina portrait that he has drawn on a frozen lake. We had to shoot on this lake and Salman converted it to a canvas. We had to source natural colors, as ice doesn't catch all kinds of paints, which didn't come easy. But once we got hold of this, he created a huge 20 feet by 20 feet portrait that features Katrina's face. It's a sight for sore eyes, this painting, and it makes Dil Diyan Gallan a truly unique romantic song visually."
See the absolutely beautiful picture!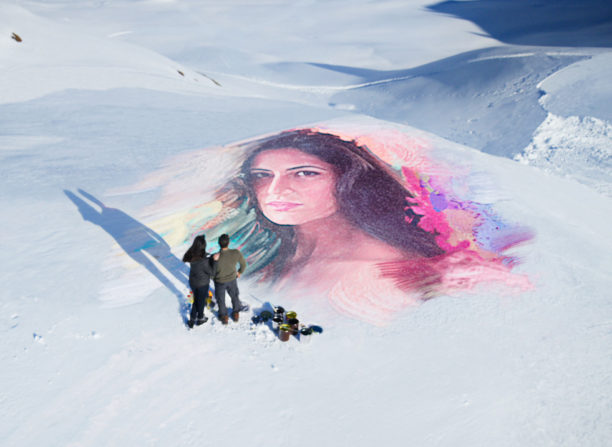 Knowing this makes this gorgeous song even better!
Watch it to see within 'Dil Diyan Gallan' and since this adds the lyrics you can sing along!
The high-octane action thriller is set to release in cinemas next Friday on 22nd December 2017.