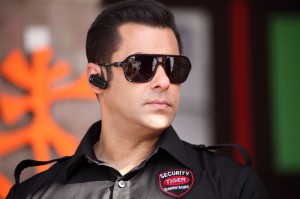 Salman Khan is known to have a big heart. Along with his Being Human Foundation the actor has been involved in countless acts of charity. While shooting for his upcoming release Bodyguard, we know of two instances where the actor has shown shown that he is not just a star, but also a caring human being.
The first story we learned about is that while shooting in Patiala, Salman and Katrina were mobbed in crowds, excited to see their favorite stars. Unfortunately, a woman in the crowd fell and was hurt doing the commotion. Once Salman heard of the incident he not only met with her and spent time talking with her, he also gave her an autograph.
The most recent instance of his philanthropy is this – while shooting at Commando Training School in Patiala for his upcoming film Bodyguard, he was approached by a granthi (prayer reader) from the nearby Shri Guru Teg Bahadur Sahib Gurdwara to help in reconstructing a new wing of the Gurdwara.
Salman agreed and immediately after returning to Mumbai, the actor kept the promise he made and promptly sent across money for one hundred thousand bricks for the place of worship. After some convincing for confirmation, Salman's brother-in-law and producer of Bodyguard, Atul Aghnihotri, admitted that Salman and the crew visited the Gurdwara twice while they were in Patiala. "Around the commando training school where we shot, people have strong faith in the Gurdwara. So all of us, including Salman, visited the holy spot on the first day, and went back to seek blessings on the last day"
Atul explained that the granthi has asked if they wanted to do kar seva (service) since the Gurdwara authorities planned to construct community rooms for worshippers. He added, "So all of us, including Salman, decided to donate one hundred thousand bricks, to construct the rooms"
The upcoming Eid release, in which Salman plays well as you probably guessed from the title, a Bodyguard, opens in theatres on August 31. It will be the third Eid release of Salman, after blockbusters like Wanted (2009) and Dabangg (2010). Stay tuned because we have some exciting interviews coming up!