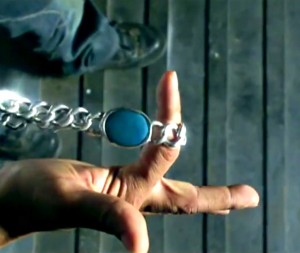 Salman Khan is a phenomenal star and there is no doubt on his stardom. And an extension of his stardom is his iconic bracelet. It's the actor's signature style. His bracelet symbolizes everything that Salman Khan stands for.
However, its for the very first time that the actor's bracelet has been used to introduce him in his forthcoming film Jai Ho. There is an entire sequence that has been created to introduce bracelet therefore Salman Khan. The trailer of the film starts with a close up shot of his bracelet symbolizing the actor's actor. This very scene has created a strong buzz amongst the actor's fan.
When asked Sohail, why the bracelet has been used to introduce Salman Khan in the film Jai Ho, prompt comes the response that when a viewer sees the bracelet he or she instantly think of Salman Khan.
After Being Human t-shirts, his fans are crazy about his bracelet. In fact since no other actor wears it, the bracelet is undisputed Salman's. Moreover this particular scene is set to create strong noise amongst the actor's fan when it hits the silver screen.
The film is all set to hit theaters on 24th January 2014.