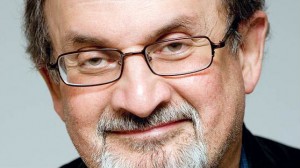 We have a statement from author Salman Rushdie about the confusion and controversy about his visit to Kolkata. The author is India for promotions of Deepa Mehta's film Midnight's Children based on Rushdie's novel.
"I arrived in Delhi on January 22nd at the invitation of the distributors of the film of my novel Midnight's Children. The plan was to visit four cities, Delhi, Bangalore, Kolkata and Mumbai, culminating in the Mumbai premiere of the movie on January 31st.
The day before I was due to travel to Kolkata we were informed that the Kolkata police would refuse to allow me to enter the city. If I flew there, I was told, I would be put on the next plane back. I was also told that this was at the request of the Chief Minister. I remember that after the Jaipur festival last year Mamata Banerjee had said she would not allow me to enter Kolkata. It would appear that she has made good that threat.
Let me be clear. I was indeed planning to take part in a session at the Kolkata Lit Meet along with the scheduled speakers Deepa Mehta, Rahul Bose, and Ruchir Joshi. The organizers were fully aware of this, and had asked me to appear as a "surprise guest." If they now deny this, that is dishonest. They actually paid for my plane ticket.
At any rate the police made my visit impossible. A police source actually issued full details of my proposed itinerary to the press, which flight I was to arrive on, where I would stay, when I would go to the Kolkata lit meet, on what flight I would leave. This was a clear invitation to troublemakers to do their worst and about 100 people duly turned up at the airport to oppose my arrival. I can't help feeling that this too was a part of the authorities' plan.
I am an OCI, an overseas citizen of India, and am proud to be one. It is a shame that this does not allow me the freedom of movement within India to which any Indian is entitled by right. 
What is happening in India nowadays is an accumulating scandal and a growing disgrace to this great nation. The assaults upon the artistic and intellectual freedoms of, for example, Maqbool Fida Hussain, Rohinton Mistry, AK Ramanujan, James Laine, Deepa Mehta, Ashis Nandy, Kamal Haasan and others add up to what I have called a cultural Emergency and what Mr Hasan has called cultural terrorism. I can only hope that the people of India have the will to demand that such assaults on freedom cease once and for all.
I would like to conclude by saying that, setting this unfortunate matter aside, I have been overjoyed to bring our film of Midnight's Children to India, and have been deeply touched and much moved by the affection, warmth and enthusiasm shown to me and my work by Indians across the country. I take this opportunity to thank them for their kind reception, and I hope to return to India as soon as good sense prevails."