Bollywood's new year is set to begin with the intensity of the unusual and power packed casting of superstar Amitabh Bachchan with the multi-faceted Farhan Akhtar in Wazir. This first release of the year, directed by Bijoy Nambiar, is also a talk of the town with one of the most melodious romantic songs of recent times Tere Bin. Not only this, the film will see Amitabh Bachchan playing a paralysed chess grandmaster with a very unusual look.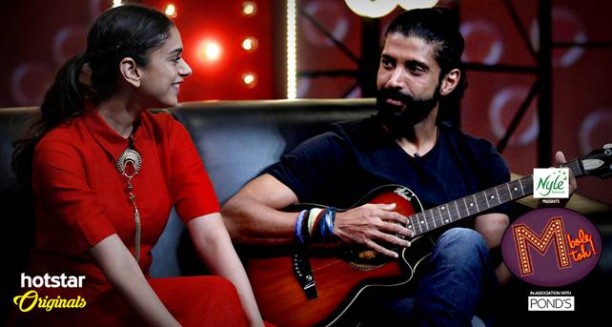 Given its storyline and the powerful trailer, with music to match, it is believed that Wazir will interest teenagers and young adults. To reach young and upwardly mobile audiences who spend more time on the internet and mobile phones than television, two stars of the film – Farhan Akhtar and Aditi Rao Hydari, have featured on the latest episode of the hotstar Originals series 'M Bole Toh', sharing memories from their childhoods, and of shooting for the forthcoming film. With Aditi belonging to the royal family of Hyderabad and Farhan's deep connections with the film industry, the episode offers unique and entertaining insights from individuals of two very different backgrounds and perspectives.
In a fun-filled segment of the episode, Farhan and Aditi are seen fending questions ranging from whether they have ever cheated in a relationship, to when was the first time they made love, to whether they have manipulated anyone.
Farhan also says, "Hrithik, Uday, Adi, Abhishek, Goldie and I have spent a lot of time together; there used to be lots of birthday parties. I remember there used to be a lot of dance competitions back then, which were a lot of fun. Can you guess who would win these? Adi (Aditya Chopra) used to win all dance competitions! Adi was the dancing champion. He was the guy to beat. Can you imagine that?!"
While not many are aware of Aditi's royal lineage and that she is related to Kiran Rao, she goes on to reveal that she had quite a normal childhood. She says, "I had quite a junglee bachpan. Chui mui, mitti mein mat khelo type bachpan nahin tha. I was completely like a free-spirited kid and was encouraged to be that. I used to play dumb charades, pictionary, pakdam pakdai, 7 tiles, pitthu etc."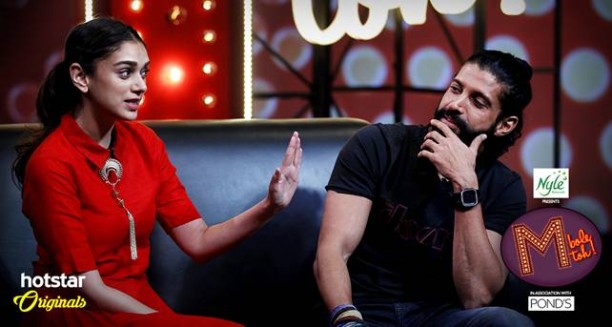 In one of the other segments on the show where Farhan and Aditi were urged to describe their industry friends in a hashtag, the two can be seen mimicking all their colleagues — senior or junior; they spare none!
The episode surely would have been incomplete without Farhan and Aditi sharing their experience of working with the Big B himself. Farhan says, "I came into the industry as Mr. Bachchan's work inspired me. Between shots and during free time, I used to always go up to Mr. Bachchan and talk about his films that influenced me. So we spoke a lot about Deewar, Sholay, Shakti. Wanted to know from his point of view what that whole experience was like, how he approached certain scenes. He shared everything with me. It was a wonderful experience to spend time with him."
Aditi says, "Mr. Bachchan's amazing command over the language is something that I would like to imbibe. He effortlessly delivers the most complicated lines."
In another fun-filled segment of the episode, the Farhan and Aditi are seen fending questions ranging from whether they have ever cheated in a relationship, to when was the first time they made love, to whether they have manipulated anyone.
To know their answers and all the masti that happened, watch the full episode only on hotstar at http://www.hotstar.com/tv/m-bole-toh/5496/farhanaditi-tell-all/1000080158
Wazir is an upcoming action thriller starring Amitabh Bachchan and Farhan Akhtar in lead roles along with Aditi Rao Hydari, Neil Nitin Mukesh and Manav Kaul in supporting roles and a cameo by John Abraham. The film is written by Abhijat Joshi and Vidhu Vinod Chopra, and is jointly produced by Chopra and Rajkumar Hirani.
Wazir is a story of a paralysed chess grandmaster and a grief-stricken ATS officer brought together by a peculiar twist of fate as part of a wider conspiracy that has cast a dark shadow over their lives. The film is scheduled to release on 8th January 2016.