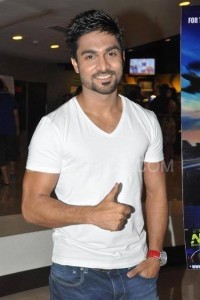 From the outside the blue bungalow with 'JHALAK HOUSE' in huge white font wears a lazy look, on a dull monsoon evening. Beyond the wooden gates, the contradictory excitement is palpable. Snacks are being served, music is blaring out loud as a team practices their act. A camera crew films behind the scenes montages while artistes, choreographers; hustle around for rehearsal space. It's a day to technical rehearsals for the week's shoot. Fitting right into the milieu, looking unfazed is dancer, actor, performer Salman Yusuff Khan. Salman rose to fame with his win at the first season of dance reality show 'Dance India Dance 2009'. With a blockbuster debut in Prabhudeva-starrer 3D dance movie 'ABCD', Salman returns as choreographer to the Jhalak Dikhala Jaa stage for the third consecutive year. Over a freewheeling conversation, he talks vehemently about his JDJ journey, working with this season's partner Drashti, future plans and most predominantly, a singular passion that binds it all in his life together – Dance!
This is your third run as a choreographer on Jhalak. Seasons 4…5…6… One unfinished journey last year! Third time's a charm?
Third time lucky you can say. If I win this season, Inshallah! It's always in it to win it. It's never taken for granted; none of my work till date has been taken for granted, I put my heart and soul into everything.
Do you feel confident about winning the trophy this year?
I have always been confident in life. I haven't got it immediately but got it definitely. Whatever I have asked for, whatever I have wanted, dreamt about I have achieved, maybe not at that point of time, maybe at a later stage but I have got it. I'm pretty confident.
Two performances down in this season, you have received satisfactory feedback and scores. Happy with the acts so far or you feel it could've have been better?
I have always felt that there is scope for improvement. Not to say that I'm a perfectionist, it's just about my self-content, I know that I can do so much more given the time, given the space. It's been 2 years that I have been constantly at work; my body needs an amount of rest that I've not been giving. Considering all that I feel I can do so much more which I'm not able to. As soon as I finish one act I start thinking about the next, what should I do with the next one. I have that feeling in me always, from inside there's still "aur thoda, aur behtar" (a little more, a little better). As a performer, performance-wise that greed will always be there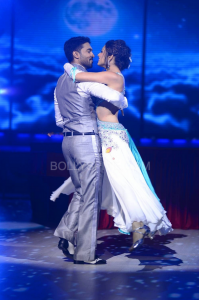 In your first waltz act on 'Ishq Wala Love' you appeared confident and were all smiles through the performance. But honestly, how nervous were you?
I was! I was very nervous! I feel even after doing thousands of shows in the past decade that I have performed, even before going on any single stage, or even a corporate show where I know it's just an audience who will not judge me, I will still have jitters. Its performance nervousness, butterflies in your stomach. I call up my family and tell them 'pata nahi yaar band baji hui hai yaar, pata nahi kyun thande ho rahe hai haath!' I don't know how to overcome it. I feel for a reason it's good, it makes me not overconfident, it keeps me alert. I feel that is my defense mode.
From Dance India Dance (DID) to Jhalak, the dynamics have changed. In the former you were an individual performer, while in the latter you are at the helm and are judged for a couple act. Does that put additional nerves ahead of every performance?
You have answered half my question. DID was more like a celebrity performer for me. Remo sir had his assistants who would choreograph the act. I had to just learn it and they would polish me. I'm getting polished, I'm learning the choreography, But I didn't have a headache of costume, I didn't have to worry about concept, of explaining the creatives and selling my act to them, lighting, of choreographing the act and teaching it to my partner. These factors are what I do as an individual on this show. Yes the obvious pressures are there because at the end of the day if anything goes wrong I'm the one pointed at by the judges and the audiences who judge a two-minute act in two-seconds, which we put in a week of effort for.
Drashti is one of the most popular names on Indian television. What was your initial reaction to being paired up with her and how is it working with her?
This is very funny! Like I said being a destiny's child, I always usually got what I hoped for. When 'Babuji zara dheere chalo' (track from the movie Dum) came out, I thought it'll be amazing if I get to dance with Yana. When I saw Isha (in Kisna) I thought 'wow this girl does such great malkambh it will be amazing if I ever get paired with her'. Likewise Drashti was in a music video called 'saiyaan dil mein aana re' ages back, a good 8-10 years, must be a decade back. When I saw her I thought she is so cute I have to perform opposite this girl. Even the slightest thing I have asked for till date, I have got. Universe conspiracy or something! *Touchwood*.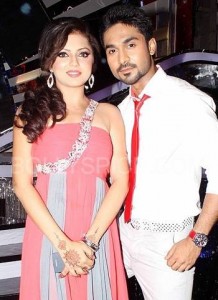 Working with Drashti is a complete different wonderful experience for the fact that she is as simple, as normal as a girl, with no air, no attitude about who she is or where she comes from. If I hadn't known her from television, she would just be like a good friend, which she now is. A complete student who listens to what I say. Yana and Isha were dancers; they obviously came with a certain background. They already had it in them that they are performers.
Does that make it comparatively easier to work with her? In one of your rehearsal montages, you spoke about 'your stubbornness and her crankiness' that's a lethal combination. What are rehearsals like?
Comparatively easier in terms of work yes, in terms of time-constraint no. I have too less of a time with her. She comes in half at energy, tired from day long shoot and then gives me about 3-4 hours. Nonetheless, rehearsals are fun and I would love for it to stay this way at the end of four months. It gets very difficult to work when we have bad temperament on rehearsals. We won't get there since with the past two seasons experience, I think I have become better at handling those situations. Previously I would lose my cool easily but right now I'm more patient. And that's very important again to be patient with your partner because you don't know how their day has passed by, what frustrations or what temperament they come back with. I can't push them to a limit, it's important that I step back at a certain point, give that five minute breather and then get back to it. But get what I want, not to change it or leave it.
Drashti is a good dancer and a fast learner. What is her weakness?
(Laughs) I think her body is not used to workouts. I don't think she's ever hit the gym, or done yoga or any sort of stretching exercise. She must have danced but never trained or performed the technical aspects of dance. Her body goes into spasms, because her muscles are not used to activating deactivating, hold, soft, strength, core. Her muscles are reacting to it and she's in constant pain and soreness which can get away only with time of healing, which is rest, which she doesn't get. Constant training and her acting schedules really fears me because neither do I want to decrease the level of difficulty or technicality in terms of dance, nor do I want any injuries this season.
Speaking of injuries, you have a history of accidents yourself (a 30-feet fall during a show rehearsal had him hospitalized with several fractures and injuries)
I don't know, I don't understand. My mom's put this (pointing to a black holy thread tied at his ankle). I don't believe in daagas (holy threads). Every performance of mine, I've never done one as healthy as a horse. I wish in my life atleast once to feel fit and perform. Either a neck spasm or back spasm, or at times I go on stage I cut myself. It's not accidental, it happens. At times I blame myself; maybe for reason that I get so involved into my character, with my act, emotionally, mentally, physically that I am not careful. Even then when I'm doing with technique, it's not necessary that when you use props, they support you completely. Props can sometimes hurt you, something; somewhere can go wrong, those things I can't keep control of and because of that I don't want to hold myself back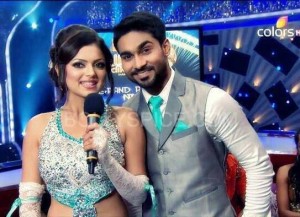 How has your interactions with the judges (Remo D'Souza, Karan Johar and Madhuri Dixit) developed over the past three years?
Allah has been very kind to me in terms of the respect that I've got from the judges. Today if I meet Madhuri ma'am or Karan or Remo Sir at a social event or anyplace else, they give me 15-20 minutes of their time to stand and talk to me, introduce me to other people and appreciate me in front of others. That coming from them is a lot for me, it's a lot of boost of confidence to me.
You have a movie 'Freedom' as an actor and debut choreographer being prepared for release. Tell us a little about your plans and projects.
Yes I do! I wake up every day and tell myself that I'm going to work my ass off today. That is my plan for every single day. I don't know 6 months down the line what is going to come, for now it's the release of 'Freedom' that I'm looking forward to. Sept-mid is a tentative date. I have additionally choreographed all 4 songs of the film; I'm very excited to see how the response will be. Other than that I'm reading two different scripts as an actor, I'm looking forward to choreographing more movies, doing bigger projects and that's for now.
In addition to that, will reality shows continue to be a part of your life?
Dancing will always be a part of my life, not necessarily a reality show. Jhalak has always been a plus for me, people love me in Jhalak and somewhere I feel, I got 'Freedom' because of Jhalak. I don't want to calculate and confine myself to a genre. In today's generation, I want to dance, I want to direct, I want to act, I want to do everything that I can do justice to.
For me there is no calculated risk, there is no calculation to success. In my life the only key is hardwork and then its destiny. If I have to get it, even if the world turns upside-down, I would still get it. You have to be prepared for an opportunity, that preparation is yours but when that opportunity comes and nails it, that's destiny. To get that destiny you need to work, you need to have a vision in life. You need to know where you want to go in life.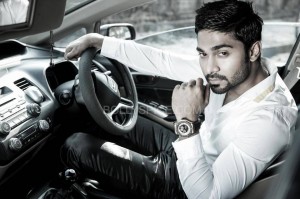 What's a message you would like to give out to your fans?
I genuinely thoroughly love them all from the bottom of my heart. Even if I'm not able to answer their mails or tweets, it's just that I'm so involved with Jhalak right now. Jhalak has changed my entire cycle, I'm waking up in the night, sleeping entire days. I will get very active on twitter soon, yes! Other than that I just want them to remember me in their prayers. Vote for me, don't vote for me doesn't matter, cause eventually in this life and the after-life, I'll need their prayers, and so far I feel I've gotten here is only because of their prayers and support and love for me. That's all I want even in the future.
Quick Takes
Make a Birthday Wish – To be remembered, for my work, for my craft!
When not dancing – Family! Family! Family! Family! And I like to drive around! I love to drive.
Acting or Dancing – Both!
Least favorite dance form – No, I love it all
Most favorite dance form – This season it's Tango, It differs from season to season I'm a person who loves spices in life. If you realize every 6 months I have a different hairstyle, I have a different beard style, I love changes in life so my clothing, my fashion sense to my music to my dance keeps changing from season to season
Secret Indulgence – I'm an absolute foodie! Food!
Fitness mantra – The key is to workout. Dance, walk, jog, sweat it out.
One fitness trick – Wake up in the morning, drink warm water with lemon
Favorite color – Black
Superstitious – Absolutely not!
Religious – Absolutely yes!
Strongest competitor – Me!
Unrealized dream or ambition – To sing! To be a singer! To stand in front of audience of crores and sing! To perform!
Thing that inspires you (or your craft) – When I'm sad I dance! When I'm happy I dance! When I'm angry I dance! It's my emotion, it's my life. Life is what inspires me.
Life's mantra – It's too short to have regrets. One life, live it all. Dream big, dream hard and you will achieve.
To vote for Salman and Drashti sms – DRA to 56882 (only Indian audiences) or to vote online log in to http://colors.in.com/in/jhalak-dikhhla-jaa
BollySpice wishes Salman a very Happy Birthday, which was June 12th!