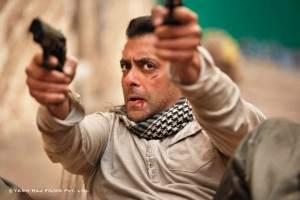 Salman Khan's style statment has always created a stir among his fans!! His fans like to immitate the style he follows in films or even otherwise. The Tere Naam hairstyle, Dabangg specs, Being Human t-shirts, his bue stone bracelet to name a few….
In his upcoming movie, Ek Tha Tiger Salman has stylishly adoned a checkered scalf around his neck which has garnered a lot of praises. Salman Khan fans can't stop raving about his macho avatar. The scarf has become quite a trend in the fashion markets with every young lad wanting to follow this modish trend. From kids to rickshaw drivers to collegians, these scarves can be spotted on everyone. A rickshaw driver donning this scarf exclaimed, "Jo bhai ka style, vahi apun ka style' (Salman bhai's style is our style)
Salman will be seen doing hard core action sequences in this film. Produced by Aditya Chopra and directed by Kabir Khan, Ek Tha Tiger is Salman's first venture with Yash Raj Films. Katrina Kaif will be playing the love interest of the Tiger, who is already roaring out loud in the box office.