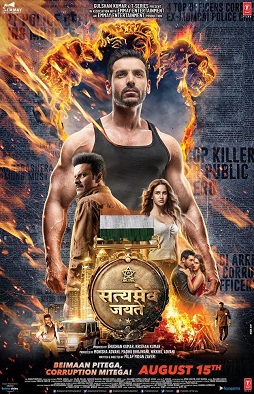 The truth will always win in the end says John Abraham's new film for Independence Day 2018 Satyameva Jayate. A cop fighting corruption as a vigilante, fighting the system he works within. This is certainly a powerful topic which many people can relate to wherever they are in the modern world. Normally music takes a back seat supporting upcoming action in these sorts of movies, but since this is an Independence Day action movie it will be just as key a figure in the film as the dialogs. Even though this is a short album, 4 music directors have contributed a song each to bring this soundtrack together.
Most of us are familiar with the mashup format of music especially used in club music. 2018 has also been popular for the word remake. The first song, Dilbar, seems to have been inspired by both the mashup and the remake, bringing together a remake of the song 'Dilbar Dilbar' from Sirf Tum and a vague assortment of sounds, some vaguely Arabic, some potentially hip hop and even a classical bit of flute thrown into the mix for good measure. A variety of female singers are running over the top of all this noise with the occasional rap break just to break things up a bit. Overall the song sounds like a mess and maybe a case of too many cooks.
To bring a bit of orthodox feeling to the album the next song is a classic soft love song, Paniyon Sa. Tulsi Kumar and Atif Aslam make an interesting pairing with her voice feeling like a shriek against Atif's dulcet tones. Not much in terms of instrumentation for the listener's ears to focus on with a mix of tabla, violins and ukulele giving just enough to support a melody. This is comparable to some of the songs in Baaghi 2 but unlike those songs, this seems to lack the ability to make us fall in love.
Arko Pravo Mukherjee now calls upon Tulsi Kumar for Tere Jaisa, which is a light classical song of missing love. Tulsi shows her range by dropping down an octave here and Arko himself is interesting while supporting her. Tabla, harmonium and synth rhythms provide a neat backdrop. This is an easy song, which is best summed up as sad but not sad enough.
Wajid finishes this album with a power song, Tajdar-E-Haram. This song is anger, loss, weakness, power and prayer rolled into one. However, outside of the incessant drums providing both driving beat and stirring emotions, this could be any standard sufi song from the archives. Imagine a poor person, possibly old, possibly decrepit singing in front or near a mosque praying to god for favour to turn around hard circumstances. Depending on your age, you're likely to come up with a different song as they have been in Bollywood cinemas at least since the early 50s. If you take the drums away from this song you will get whatever song you just imagined.
Taniskh Bagchi, Rochak Kohli, Sajid-Wajid and Arko Pravo Mukherjee all contributed to making this album something to stand up for and become part of the fight against corruption by supporting our hero in his quest. However, by using remakes and modernised versions of old songs they don't seem to have really hit the mark as the music is lacking any spark that will bring the audience to their feet. Even the love songs are lacking in any real emotion, and while this may provide a counterpoint to the literal explosions in the movie, it seems to miss the point of a love song.