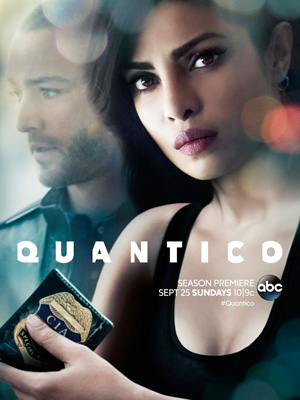 With Quantico Season 2 all set to air on Star World and Star World HD every Monday, 9 PM from 26th September 2016 onwards, the intrigue around Alex Parrish played by Priyanka Chopra and her new journey at the CIA is raising excitement levels!
While we will have to wait for another whole week to see what new world saving assignments Alex gets up to, here's what Priyanka's costars have to say about the talented and sexy Pee Cee and the show!
"Priyanka, when she auditioned, she walked in the door and it was like okay, who is this person. This is clearly a movie star, like every hair at the back of your neck stands up. When I went home, I couldn't think of anyone else – it wasn't even that I was just thinking about Priyanka has to play this, she had re-envisioned the character in front of my eyes" says Joshua Safran, the creator of the series.
When asked about his rapport with Priyanka, Jake McLaughlin who plays Ryan Booth stated, "I didn't know anything about Priyanka. So I didn't know who she was and anything like that and it wasn't until later that I realized the extent of her celebrity. But she is down to earth. Priyanka is down to earth girl."
"I think Priyanka is beautiful. She is a great actress. She just shines. She's got that 'IT' factor. She just walks into a room and everyone turns and looks and she just lights up and she is a tireless worker and just led by example. I mean we all got tired and it was a long season and she was always chipper and ready to go and she had to work more hours than everyone and she never complained and it set the tone for everybody" praised Josh Hopkins who played Liam O'Connor.
Aunjanue Ellis as Miranda Shaw stated, "What I like is getting the opportunity to see Priyanka being the leader of this cast. And how she works so hard at what she does. She takes what she does incredibly seriously and she brings certain amount of joy to it."
Talking about Season 2, Joshua Safran teased, "With Alex on the CIA side of things, expect her to be running around a little less. There will still be a central mystery in "Quantico" Season 2, but it's not a bomb going off. It's weirdly actually bigger in scope but smaller in energy. … The CIA is about intelligence. It's about how are you cultivating and using intelligence, which is a slower boil. It still has all of the great twists. It's not a bomb going off every week."
Watch the cast speaking about shooting for Quantico:
Gear up to catch Quantico Season 2 only on Star World and Star World HD every Monday, 9 PM from 26th September 2016 onwards!