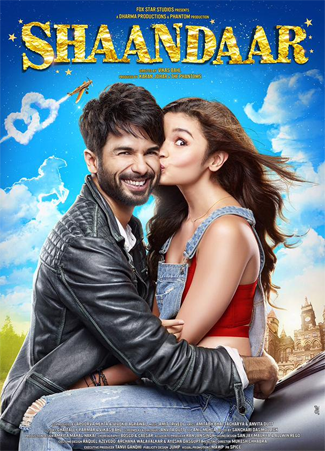 When Vikas Bahl announced Shaandaar, the expectations understandably soared. After all, he had given us one of the most endearing and fun movies of 2014 – Queen. With the Alia – Shahid chemistry visible in the promos, it looked like the movie had everything going for it. What you get instead is a bad potpourri which tries to be everything and ends up going nowhere.
The movie starts with a (rather long) animated prologue which establishes the characters of the Arora family, who are a Bollywood version of a Disney family. There is the strict conniving Mummyji (Sushma Seth), a silent loving father (Pankaj Kapur), a shrewd step-mother (Niki Walia), a chubby sister with a heart of gold (Sanaah) and a poor pretty orphan kid (Alia).
Mummy decides to make a "business deal" with the Fundwanis and marry off her granddaughter Isha to Harry Fundwani's brother, Mr. 8 ½ pack abs. The Fundwanis are the epitome of crude Sindhi stereotypes – for them it's all about loving their money (and their gold!). It's during this elaborate Wedding of the Year that Alia meets Jagjinder Joginder aka JJ (Shahid) who is the wedding planner. JJ, like Alia, is an insomniac and the two fall in love over a series of songs and conversations. So while Alia is happy to have found her dream prince, Isha begins to realize that her fiancé might just be a Class A jerk.
There are so many things going wrong for this movie that I don't even know where to begin. The trailers had fairly warned us that this movie wouldn't have the typical narration style and I was prepared to deal with a bit of craziness. But it looks like the movie was lost somewhere between an idea Bahl had and the actual script. Bahl may have intended the movie to be a funny take on stereotypes but it falls flat and leaves you with a sour taste in your mouth. Yes, we have the gay guy with the "hand problem", 'OMG!' spewing coordinated bimbos, greedy Sindhis with a bad accent, KJo and the implied gay jokes etc. With a screenplay that makes as much sense as KRK's tweets, Bahl tries to rely heavily on trying to up the humor quotient of the movie. Instead what we end up with are bits and pieces which manage to make us smile with the major part looking seemingly forced and unfunny.
There is no dearth of acting talent in the movie, but with character sketches so flimsy, there is only so much the cast can do. Pankaj Kapur reminds you heavily of his character in Main Prem Ki Deewani Hoon, and although he has always been a brilliant actor to watch, his act leaves you with a sense of déjà vu. Sanaah is pretty decent for her first movie; Alia tries to do justice to her oscillating brattish character. If there's someone who manages to hold the movie together, it's Shahid. The movie tries to bank on the father-son chemistry but Anvita's dialogues take the fun out of that as well. The only good things going for this movie are the beautiful cinematography and Amit Trivedi's super fun music. And yes, Alia's gorgeous looks – the movie is definitely eye candy!
The reason why Queen was such a likable movie is that apart from being such a fun fest, the character of Rani was someone you found believable and made a connection with; this movie gives you characters who end up being just cardboard caricatures. It's a pity that where it could have been a smart take on the weight bullying faced by today's generation, Shaandaar ends up being neither here nor there.